Guest Post: Raw Food Shopping Basics + Orange Raspberry Dressing Recipe
Day 1 Tally Ho!
First of all – I am very excited to be working with Christine and JustGlowingWithHealth.com once again for the 3rd annual 30 Day Raw Vegan Challenge. Most of you know the drill by now, but for the new comers, I will be sharing with you both the positive experience and the challenges I face throughout the day and a summary of my meals. This year we will only be selecting the best recipes of my Raw Vegan meals and breaking them down into step-by-step instructions and pictures so you can make them too. We'll see what the next 4 weeks has in store for us.
Why am I going Raw Vegan for 30 Days? It's really important to me that I nourish my body with the foods highest in Vitamins, Minerals and Antioxidants and reduce the pollution in my system to help my body recover from Red Skin Syndrome.
In 2013 I started Physical Therapy because I had injured my hip due to lax ligaments (which was a result of being bed ridden and housebound for so long). I completed physical therapy in April 2014 and began seeing a post rehab trainer to strengthen my muscles. Since my flare in December 2014 I've been to the gym 5 times.  I'm happy to say today was a big day for me on a lot of levels. It's the first day I'm capable of committing to be officially back at the gym working into my routine and training AND it's my 1st Raw Vegan day of the challenge. Woohoo!
SHOPPING BASICS:
I try to buy a minimum of 5 veggies and 5 fruits in bulk to keep in the house to mix and match into recipes. (Although I went hog-wild this week cause I didn't want to have to think about what I needed.) Since I try to buy local organic and what is in season I try to read recipes ahead of time to kind of figure out what you can make with the stuff available to you. Farmers Markets are great places to get bulk deals. Since I live in the "salad bowl" of the country my Costco actually carries a lot of the produce from the local organic farms and some Raw Vegan Packaged goods. So I got most of my bulk produce at Costco. (If you live in California your Costco may have some organic produce available.)
Trader Joes is my go to place for bulk Raw Nuts. The nuts are the base for a lot of my desserts and I throw them in my salads and smoothies. I also picked up Organic Coconut Sugar there, but not sure I will use I this month. TIP – you don't have to make nut milk for your smoothies. If you have a Blendtec, Ninja or Vitamix blender you can throw nuts in your smoothie and add coconut water or plain water to get that creamy nut milk texture and flavor. Plus the protein content will be higher to boot then if you use just the filtered nut milk.
Trader Joes Raw Nuts I purchased: pistachios, pine nuts, almonds, cashews, walnuts and pecans.
The Organic Raw Vegan packaged goods I got at my Costco: Forager Cold pressed Nutmilk, Suja cold pressed green juice, 100% Raw Coconut Water, Two Moms in the Raw Blueberry granola bars, Made in Nature Goldenberries (dried fruit), Made in Nature Superfood dried berry mix, Made in Nature Deglet Noor Dates, Made in Nature Calimyrna Figs (the ones that taste like Fig Nutens), Farmhouse Culture Classic Caraway Kraut (No vinegar used)
Costco Organic Fruit I purchased: Cherries, Raspberries, Strawberries, Blueberries, Lemon, Lime, Orange, Banana, Apple, Watermelon, Dates (Medjool)
Costco Organic Veggies I purchased: Mixed loose-leaf Baby Greens, Mixed Superfood Greens (Kale, Chard, Spinach), Heirloom & Plum Tomatoes, English Cucumbers, Sweet baby peppers, Avocado, Spaghetti Squash, Crookneck Yellow Squash, Zucchini, Carrot, String Beans, Sweet Potatoes,
Organic Fresh Seasoning I purchased at Whole Foods: Garlic, Green Onions (Scallions), Purple Onion, Ginger, Turmeric, Thyme, Mint, Parsley, Basil
Organic Dried Seasoning and Raw "baking" goods I purchased from a smattering of stores:  Wholesome Sweeteners Raw Blue Agave, Artisana Coconut Butter, Divine Organics Cacao Nibs, Rapunzel CaCao powder, Ground Vanilla beans, Cinnamon, Nutmeg, Pink Salt, Cardamom, Cumin, Paprika, Cayenne, Coriander, Sumac
Whole Foods has a section of Pacakaged Raw Vegan food in both the "Dried goods" section near the produce and in the "refrigerator" section near the dairy section. Spend some time looking in those areas to see what they have available for you to try.  Here are some of the Organic Raw Vegan things I picked up: Mauk Family Farms "Toast", Earth Circle Organics sun-dried Black Olives, Bubbies Kosher Dill Pickles (No sugar, No Vinegar and No Preservatives), International Harvest dried shredded Coconut, Heidi Ho Spicy Chia Cheeze spread, Living Intentions Acai Blueberry Superfood Cereal and Living Intentions Maca Honeycomb Superfood Cereal
Day 1 Meals – Berry day
Of course I try to drink about 2 liters of water throughout the day. I didn't want to commit to making any crazy recipes or over thinking it on my first day because Mondays are my clean the house and do laundry days.  I kept it simple by focusing on using BERRiES.
Breakfast:
Smoothie
Blueberry, Strawberry, Nutmilk and Superfood went into the blender and made me a smoothie.
Lunch:
Cereal
I had the Acai Blueberry Superfood Cereal topped with a cup of Blueberries, a banana sliced and nut milk.
Dinner:
Waldorf-ish Salad
Did a spin on the Waldorf Salad and made a Raspberry Orange Dressing. The salad was in base of mixed baby kale, baby chard & baby spinach topped with Black grapes, Red grapes, Avocado, Walnuts, Carrots and mixed dried berries.
Raspberry Orange Dressing:
1 cup raspberries
¾ ripe avocado
juice of 1 lime
juice of 2 juicy oranges
juice of 1 lemon
1 tablespoon Agave
1 teaspoon pink salt
1 tablespoon fresh thyme
Blend til smooth. Pour on salad.
Random Snacks today:
Carrots
Grapes
Two Moms in the Raw Granola Bar
  Keep checking in!
— HP

www.eczemancipated.com
Facebook: Heather Petersen HP Esthetics
Instagram: HP Esthetics
Pinterest: HP Esthetics
You can read about my past 36 months at www.eczemancipated.com For more information on TSA/RSS, check out www.itsan.org, the International Topical Steroid Addiction Network.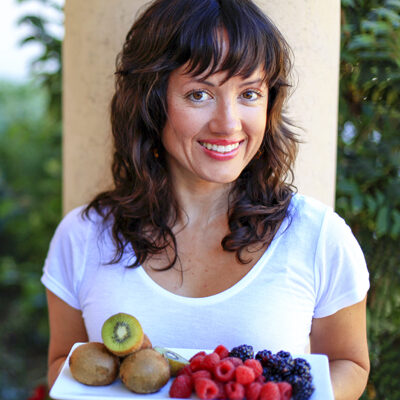 Hi, I'm Christine, thanks for stopping by! As a fibromyalgia thriver (symptom-free for over 10 years now thanks to diet and lifestyle changes), it is my passion to share the healing power of food.
As an RN and Holistic Nutrition Practitioner, it is my desire to empower you to take charge of your life.
Let's journey together to glowing health. Learn More
Your Health Transformation
Starts Here!
Sign up to get FREE healthy lifestyle tips and recipes!