Guest Post: Raw Vegan Day 3 + Homemade Spicy Mustard Recipe
Some days do not go as you planned at all. A friend of mine was in need of assistance, so I was happy to stop my immediate plans and go help out. Although this didn't allow me to prepare the food I had hoped, it did fill me with the satisfaction of giving. Since dealing with Red Skin Syndrome, this isn't an opportunity I can oblige frequently.
In 2006, Dr. MJ Cork published an article in the J Allergy Clin Immunol. He said the following, "Topical corticosteroids are an important short-term treatment for severe flares of [Atopic Dermatitis]. However, if topical corticosteroids are used for prolonged periods and particularly on delicate skin sites, they can cause cutaneous atrophy [wasting away of the skin] and damage the stratum corneum [top layer of the skin, there are 7 or 9 layers depending on how the skin is defined at its base]. Prolonged use of topical corticosteroids might damage the skin barrier on delicate skin sites enough to enhance the penetration of irritants and allergens. This could provide the explanation for the phenomenon of post-topical steroid rebound and steroid addiction."
This means if the top layer of skin was left intact and undisturbed the skin could do its job and protect itself from irritants, pollutants and allergens. However, due to the skin wasting away as a result of prolonged corticosteroid use it becomes unstable and dysfunctional. Resulting in the skin becoming aggravated by everything like clothing dye, fragrances, preservatives and pretty much almost whatever it may come into contact with, as ultimately these substances will penetrate through the skin and enter the body. Foreign items in the body trigger the body's immune system to go on high-alert and the vicious cycle of constant inflammation and reaction keeps going.
*** [ ] brackets added for clarification of information
For more information and fun facts, check out www.itsan.org, the International Topical Steroid Addiction Network.
Day 3 of 30 Day Raw Vegan Challenge
Breakfast – Fresh raw Granola with Banana Milk. (Granola recipe from the other day.)
Lunch – Went out for lunch with my friend. The menu was limited so I ordered a large salad and asked them to replace the romaine lettuce with spinach instead. Then I told them no dressing, just lemon wedges and I did use olive oil. Salad had Avocado, Tomato, Cucumber, Red Onion, Chick Peas, Kalamata Olives and Artichoke hearts placed over the spinach base.
Dinner – Ok here is where being raw vegan gets tricky. I had a tiring day and hadn't prepared anything. So I ate pretty late as a result of having to prepare food. I was determined to make something because I have been craving white potatoes for the last few days, probably for the potassium. So I whipped up a raw potato salad with fresh raw mustard dressing I made from scratch.
Raw Mustard Recipe: Soak ¼ cup of Yellow mustard seed and ¼ cup of Brown mustard seed in 6 Tablespoons of lemon juice for 24-36 hours. Then put in a blender and mix with ¼ tsp. salt, ¼ tsp. turmeric, 1/3 cup water and 2 small dried black mission figs. (Add a little water as it blends if you want it to be thinner. You may use a different sweetener; I don't like dates and can't have agave syrup so I went with figs.) SUPER FRESH, VERY SPICY!
Raw White Potato Salad: Slice 2 large red bee potatoes like a potato chip (I used my food processor attachment for microplaining.) Then immediately soak in ice-cold water 30 minutes at a time for a total of 3 times. Wring out any excess water. Place in serving dish. Drizzle Organic Expeller Pressed Extra Virgin Olive oil and sprinkle salt over the potato slices.
In another bowl, toss together chopped black oil cured olives, a small bunch of chopped Basil, a small bunch of chopped Parsley and an entire small container of to some type of sprout. (I used Pea sprouts.) Mix together with potato slices and serve with a dollop of Raw Mustard on the side for dipping in Potato Slices if desired. Yummy!
Snack Suggestion: The salted and oiled potato slices are a great spicy snack when served with a side of fresh mustard.
Heather Petersen
www.eczemancipated.com
Facebook: Eczemancipated
Twitter: @HPEsthetics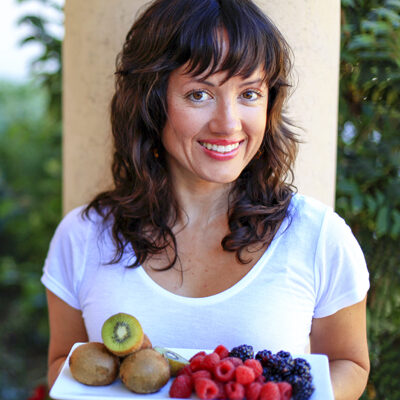 Hi, I'm Christine, thanks for stopping by! As a fibromyalgia thriver (symptom-free for over 10 years now thanks to diet and lifestyle changes), it is my passion to share the healing power of food.
As an RN and Holistic Nutrition Practitioner, it is my desire to empower you to take charge of your life.
Let's journey together to glowing health. Learn More
Your Health Transformation
Starts Here!
Sign up to get FREE healthy lifestyle tips and recipes!