Spiced Carrot Apple Breakfast Bars (Nut-Free) (NoBake)
I've been juicing carrots like crazy lately which has left me with heaps of carrot pulp. So, I've been creating 101 ways, or recipes I should say, to make use of the pulp. Well…maybe not 101 but I'm getting close lol. These raw vegan bars have been a hit with my friends that I've shared them with and even my hubby has been enjoying them.  He eats them as a breakfast bar..thus the name Spiced Carrot Apple Breakfast Bars because he's one who doesn't like smoothies or even fruit in the morning, but a hearty bar he really enjoys.  So if that's you or maybe a family member, these bars are the perfect breakfast! You can make them in advance have them in the fridge ready to go for the morning rush. They're practically fat-free, and have no added refined sugar so you can eat as many as your heart desires.
Keeping my meals during the day super simple helps me maintain the raw food lifestyle. I mostly eat fruit during the day. But, the one thing I always invest time in is preparing snacks for the week. You know for those moments when you're just craving something, other than fruit, and yet you don't want to cheat. I can't tell you how much it's made a difference for me in really keeping consistent with the diet. Just a little preparation is all it takes. I usually prepare them on Sunday night so I have them ready to go for the week and it works great!
So the other day I was watching on you-tube a video interview of Charlotte Gerson, if you 've never heard of the Gerson Therapy center it's so worth checking out. Anyway, she was saying how carrots are an excellent source of protein and they contain the essential amino acids. I didn't know that but know that I do I've included them in my juices more. Also because she said that carrot apple, and carrot greens is one of their staple healing juices for their patients. Lately I've had a little flare-up of pain with my back injury so I immediately bring out my food weapons to make sure to ward off any fibro-flare ups. So far so good!
Let's talk about these bars for a sec…they're so super easy to make. I know I always say that, but seriously I only make easy food. I don't have an attention span to read a recipe with more than ten ingredients! 🙂 These bars are nut-free, gluten-free, no bake, energizing, a great source of protein, yummy what else can I say? They're great as breakfast bars, snacks, road trip food, traveling snacks… with just a little preparation you can have some real belly satisfaction. You gotta try 'em!
These bars will easily last in the fridge for at least a week in the fridge stored in an air tight container.
Servings: 8 bars
Recipe:
2 1/2 cups carrot pulp (or shredded carrots)
5-6 dried apple rings
5 dried blonde figs (soaked in pure water until soft)
1/2 cup coconut flour ( just ground shredded coconut in a coffee grinder or food processor)
3/4 cup buckwheat flour (ground buckwheat)
2 1/2 cup medjool dates, pitted (soak for 20 minutes if not soft)
2 teaspoons cinnamon
2 teaspoons vanilla extract
Hemp seeds for garnish
(optional) 1 cup of either crushed walnuts, pecans, or pumpkin seeds
1) Place above ingredients (except hemp seeds) in a food processor and pulse blend until it becomes a coarse sticky mix. Make sure not to over process it. The texture should be coarse and chunky. (optional) If you are using nuts first scoop the mixture into a bowl and add them in mixing in well with your hands. 2) Scoop out in a 8×8 dish and firmly press the mix into the dish. 3) Sprinkle on hemp seeds. 4) Place in the fridge to chill for about an hour. 5) Slice and serve.
NOTE: If you want to have these ready for on the go slice them and wrap each one individually. Buckwheat flour can be substituted with gluten-free rolled oat flour, or almond flour (not nut free).
If you get a chance to make 'em I'd love to hear how you liked 'em in the comments below.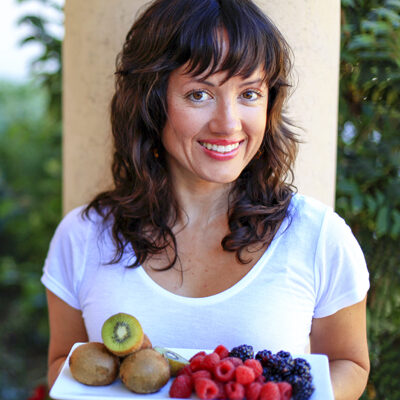 Hi, I'm Christine, thanks for stopping by! As a fibromyalgia thriver (symptom-free for over 10 years now thanks to diet and lifestyle changes), it is my passion to share the healing power of food.
As an RN and Holistic Nutrition Practitioner, it is my desire to empower you to take charge of your life.
Let's journey together to glowing health. Learn More
Your Health Transformation
Starts Here!
Sign up to get FREE healthy lifestyle tips and recipes!