Cheezy Chipotle Kale Chips
These cheesy chipotle kale chips are my new obsession! They are light, crispy,  and so yummy yet full of green goodness for you. For months I have spent money supporting my kale chips habit, buying them at the store.  But, I finally bought a dehydrator and decided to start experimenting with recipes of my own.  When I started on the raw food diet, I kept it so simple the only piece of equipment I owned was a Vitamix ( which I still love) and I still recommend keeping it simple, but as time goes on I am having fun delving into more involved recipes too.
Making kale chips is so incredibly easy, there is no reason to be buying them at the store.  When I make them I usually make several trays worth so that they last for a while.  A lot of people ask me how long I store them for, but to be honest they never last too long around here because we devour them so fast!  But, I usually store them in an air-tight container in the fridge and they stay nice and fresh in there, they can probably be stored for at least a couple of weeks.
These kale chips come in handy when I have the munchies, or even with my salads or other veggie meals.  When I was transitioning off bread I found it very helpful to have  dehydrated crackers or chips like these with my meal to use in place of it, and that helped me a lot.
I am so excited for you to try this recipe. I think you're going to love it, and I bet you can't eat just one! 🙂 Unlike potato chips you can eat as much as you like without the guilt, these babies are gluten-free, dairy-free, no added chemicals, preservatives and no frying here! A guilt-free pleasure.  So when you get the munchies there's no better snack!
Recipe: 
For the Kale Chips:
1 1/2  bunches curly kale
For the "Cheesy" Chipotle Sauce:
1 large red bell pepper (about 1 cup), seeded and chopped
1 cup cashews, soaked overnight rinsed and drained
2 Tbsp nutritional yeast
1/2 cup water
1 tsp chili chipotle powder
(optional) Himalayan salt, dash of
Remove the kale from its stems in bite size pieces and place the leaves in a large mixing bowl and set aside.  Blend all the above ingredients for the cheesy sauce in a high-speed blender or food processor until smooth and creamy.  Pour the cheesy chipotle sauce over the kale and using your hands make sure to coat evenly. Spread the leaves over 3 mesh dehydrator trays and dehydrate at 104 degrees for 6-8 hours or until crispy.Enjoy one bite at a time!
What are your favorite kale chips?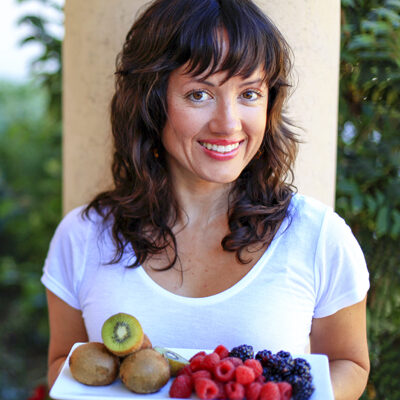 Hi, I'm Christine, thanks for stopping by! As a fibromyalgia thriver (symptom-free for over 10 years now thanks to diet and lifestyle changes), it is my passion to share the healing power of food.
As an RN and Holistic Nutrition Practitioner, it is my desire to empower you to take charge of your life.
Let's journey together to glowing health. Learn More
Your Health Transformation
Starts Here!
Sign up to get FREE healthy lifestyle tips and recipes!