Guest Post: Days 13/14 Raw Food Challenge + Sweet Savory Lettuce Wraps
Time is flying by and has caused me to totally lose track of what day I am on. This is good because it means I'm not really thinking about eating, my recipes and meals are just kind of happening by research and osmosis.
I have enjoyed having more energy on this diet. The side effects of the detox are pretty much over. No more sore throat or sinus draining and my mind is pretty clear. Last week, while at my Aunt's house I slept a lot and took several naps, I'm not a napper. But this was most likely due to being exhausted from the drive and it was "lady's days" time. 
Keeping my Thyroid supported has been my greatest concern, as I am in Hypothyroid these last few years. For those of you who follow me on www.eczemancipated.com, you remember that my Thyroid goitered while I was doing a three day juice fast in 2012. This was most likely due to the fact that I was going into Hoshimotos Disease from the Topical Corticosteroid Withdrawals and because I was juicing mainly cruciferous vegetables. So during these 30 days I am making sure to take my Superfood supplement, sometimes several times a day. It's loaded with several Seaweeds, a great source of Iodine which helps support an under active Thyroid function (Iodine is not good for those with Graves' Disease or Hyperthyroid). Of course I have also tried to keep my Raw Cruciferous intake low and most of the time I consume Cruciferous veggies with either Lime or Lemon. The citric acid helps to aid in the digestion and break down of these vegetables. 
Yesterday is a blur. Since it is a holiday weekend, there are all kinds of activities that have been happening. Some close friends of ours moved to China and have returned to California for a brief visit. So we have had the opportunity to catch up with them. There was also a Baby Shower, our regular Spiritual activities and family BBQ. (Well I consider them my family, since my relatives live so far away.) This post will mainly show you how I prepared to attend activities where Raw food may not have been present and how I achieved staying on my diet without feeling like I had to sacrifice and without cheating.
Day 13 and 14 of 30 Day Raw Vegan Challenge
Saturday morning we did a bit of volunteer work. I woke up super groggy and tired, so for BREAKFAST I just grabbed a Banana, Grapefruit and "Raw Breakfast Crusts", which were like fruit and nut crackers. I enjoyed having the crackers as a change to my normal routine. And they made a convenient grab-and-go meal. I know that many Raw Vegans can eat "Mono meals", which is several of 1 type of fruit or vegetable. "That ain't my thang…" as the saying goes. I prefer Savory vs. Sweet and secondly, I like to have many flavors in my meals. This isn't to say I won't eat a lot of 1 type of food in one sitting, it just means I don't prefer it.
I stopped home after volunteer work and made Christine's famous Creamsicle Smoothie Recipe. It's an absolute favorite of both me and my husband.
Then I packed a bag of food to take along with me for the rest of the day. As I was going to attend a Baby Shower and a small gathering of lady's for a wine and cheese party to visit with my good friends. My bag of Raw goodies included:
Honeydew Melon
Raw Breakfast Crust/Crackers (more of them)
Frozen Lime Cashew Cream Sandwiches (yes, I still have a few in the freezer)
Raw Vegan Kombucha (a fermented beverage to pour in a wine glass)
Raw Vegan Cheddar Cheese
Before I entered the Baby Shower, I ate a couple of the Frozen Cream Sandwiches. I needed a protein snack and wanted something sweet since there would be lots of temptations at the Shower. I was thrilled to see the host made cool Fruit Skewers and Crudité Cups. You can tell they put a lot of work into everything and I was able to have some snacks while I was there.
Afterward, I headed to the Wine and Cheese party. They too had a platter full of Crudité waiting for me, along with Watermelon chunks. In addition, I brought my own Honeydew Melon and Raw Vegan Cheddar Cheese, which turned out to be more of a dip then a cheese. It was my first time trying a store made Raw Cheese. It was tasty, just nothing like Cheddar Cheese. (It may have been the brand, I don't know.)
While everyone touted their lovely Wine, I had a Ginger Raw Kombucha Beverage poured in a wine glass. Now here is where I erred. I bought 2 brands of Kombucha. 1 Healing Springs brand Raw Ginger Kombucha and 1 Synergy Brand RAW Ginger berry Kombucha, the Synergy brand is my favorite. 
The Healing Springs RAW Ginger Kombucha label I did not read in its' entirety. So when I took the first couple sips I thought something seemed a miss. I read the ingredients and it had SUGAR CANE in it. Well I'm on a detox and can't have Sugar Cane no matter how Raw it is. So I gave it to one of the kids present. 
Lesson learned; don't be in a hurry, READ LABELS.
So I sat and had the Synergy Brand Kombucha instead as it was only flavored with real fruit and NO sugar. I thoroughly enjoyed it. And it was fun cause it was a in a wine glass and bit fizzy like a cocktail. I ate all the Raw Vegan Cheese with my Crudité and the Raw Crusts/Crackers. I shared the Honeydew and all was well.
TODAY
Again I was heading to my spiritual feast, so for BREAKFAST I ate a Banana, the rest of my Raw Breakfast Crust/Cracker from yesterday with Almond Butter and the rest of my Raw Vegan Chocolate from last week.
In the afternoon, I ran to the grocery store and grabbed the most random basket of stuff. I was really tired today and am totally overdoing it with the activity so I had no idea what I was doing at the store. Fortunately I pulled together this lovely salad to share at my family's BBQ. I made Lettuce Wraps filled with a Savory Fruit and Herb Salad:
Green Onions (8 stalks diced)
Mint (small bunch, leaves only, chopped finely)
Parsley (Medium Bunch, top of stalks and chopped finely)
Limes (2 juiced)
Mandarin Oranges (2 juiced)
Pink Salt and Pepper (to taste)Cucumber (1 peeled and diced)
Nectarines (3 ripe, pitted and diced)
Granny Smith Apples (2 cored and diced)
Blackberries (1 pint rinsed well)
Avocado (pitted and sliced)
Large flexible Lettuce Leaves (Butter Lettuce, Red Lettuce and Romaine Lettuce are good options for  lettuce wraps.)
Recipe and Assembly: Take Lime juice, Mandarin Orange Juice, Pink Salt, Pepper, Mint, Green Onions and Parsley and toss well in a large bowl. Taste to see if the flavor is balanced and salted properly. THEN add everything, accept Avocado, to the bowl and mix well. Place a few tablespoons in a lettuce leaf and top with Avocado Slices. Grab the "wrap" and enjoy.
I ate 3 lettuce wraps left the rest of the "salad" without the wraps on the buffet table to share. When I went back to make more lettuce wraps it was almost entirely gone. Everyone loved it! I was able to eat 2 more servings and leave a smidgen for whoever else wanted more. It was a crowd pleaser for sure!
I took a 2 hour nap when I returned home and was far from hungry when I woke up. But because I have to keep my calorie intake high, I suffered through and made myself a 20oz serving of a Strawberry Banana Basil Cashew "milkshake" for dinner. (Of course I'm being Facetious, I loved my milkshake!) I used one of the Strawberry Basil Frappe (slightly thawed) that I prepped and froze in 16oz containers + 1 cup Coconut Water and 1 Banana. Threw it all in the Vitamix and poured in a Mason jar.
Well that takes you through my weekend. Tomorrow is a holiday so I will enjoy the extra time with my husband and then I plan on sleeping all day Tuesday and Wednesday or I'm not gonna make it through another weekend.

Find Heather on Facebook, Instagram, Pinterest and Twitter @hpesthetics. For more information on TSA/RSS, check out www.itsan.org, the International Topical Steroid Addiction Network. You can also read about Heather Petersen's experience at: www.eczemancipated.com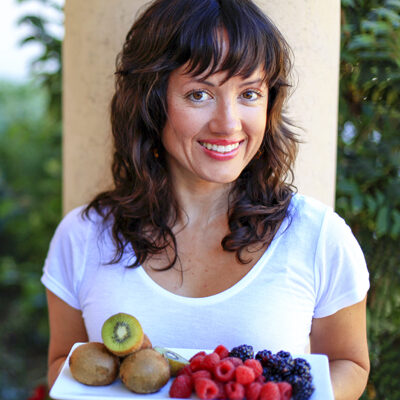 Hi, I'm Christine, thanks for stopping by! As a fibromyalgia thriver (symptom-free for over 10 years now thanks to diet and lifestyle changes), it is my passion to share the healing power of food.
As an RN and Holistic Nutrition Practitioner, it is my desire to empower you to take charge of your life.
Let's journey together to glowing health. Learn More
Your Health Transformation
Starts Here!
Sign up to get FREE healthy lifestyle tips and recipes!