Guest Post: Raw Food Challenge Day 1 + Banana Berry Nice Cream
Day 1 Raw Food Challenge Tally Ho! 
First of all I am very excited to be working with Christine and JustGlowingWithHealth.com once again for the annual 30 Day Raw Vegan Challenge. Most of you know the drill by now, but for the new comers, I will be posting pics and recipes of my daily Raw Vegan meals over the next 4 weeks. Also I will be sharing with you both the positive experience and the challenges I face throughout the day.
Why am I going Raw Vegan for 30 Days? Here's the scoop. It's really important to me that I nourish my body with the foods highest in Vitamins, Minerals and Antioxidants and reduce the pollution in my system to help my body recover from Red Skin Syndrome.
Many of you know that I am suffering from "Red Skin Syndrome" (RSS) due to "Topical Corticosteroid Addiction" (TSA). I had been prescribed Topical Corticosteroids over an extended period of time for the treatment of Eczema (a form of Atopic Dermatitis). My skin began to experience rebound effects (aka. "drug withdrawals"), every time my Eczema healed and I discontinued the Corticosteroid.  Since the "withdrawal" mimicked Atopic Dermatitis, I would receive progressively more Corticosteroids, at stronger doses, to cover larger regions of my body. This resulted 75% of my skin being addicted to the drug (and probably only 2% of my skin having actual Atopic Dermatitis).
Recovering from Topical Corticosteroids Addiction varies from person to person. It is based on your age, months/years of usage, health prior to addiction and other random factors. Therefore, it can take anywhere from 6 months to 7 years to recuperate from. Thankfully, my recuperation is smack dab in the middle. It is estimated that my skin will be fully recovered in 36 months . Currently, I'm in month 25. This means I'm through hopefully the worst and should see leaps and bounds of improvements in the coming months ahead. You can read about my past 25 months at www.eczemancipated.com
For more information on TSA/RSS, check out www.itsan.org, the International Topical Steroid Addiction Network.
Day 1 of 30 Day Raw Vegan Challenge
I started my day with pre-morning workout Green Smoothie (not pictured).
Honeydew Melon (1 cup)
Coconut Water (1 Cup)
Superfood Supplement (1 TBSPN)
Acerola Cherry Vitamin C Supplemnt (1 tspn)
Blend in the Vitamix til smooth. Drink it up.
After returning from my workout I was feeling like having a yummy treat. Banana Berry Ice Cream did the trick.
Dates (4 pitted Hadley)
Coconut Water (1/3 cup)
Pureed til smooth in the Vitamix. Then added:
Frozen Banana (2 whole peeled)
Frozen Mixed Berries (1 Cup)
Blended in the Vitamix.
Served it in a bowl topped with Chia Seeds (1 TBSPN) and Chopped Apricot.
The rest of my day did not exactly go according to my mental time frame. My advanced preparation was very helpful. I kept 1 Cup of Raw Pecans (not pictured) with me to snack on and 24 oz of Purified water with a bit of Lemon Juice and Dates pureed for sweetness.
I came home to a Green Salad and Ginger Cilantro-Lime Dressing (pictured on Instagram @hpesthetics) I had already made over the weekend.

Romaine Lettuce (Approximately ½ a head)
Baby Sweet Peppers (2 sliced)
English Cucumber (1/4 cup peeled and sliced)
Carrots (peeled and diced)
Celery (rough chop)
Then I added to it:
Oranges Slices (1 peeled Navel Orange)
Heirloom Cherry Tomatoes (5 sliced)
Avacado (1 whole peeled and chopped)
And I poured my dressing all over it:
Lime Juiced (3 limes)
Orange Juiced (1 orange)
Ginger (2 inch piece peeled)
Cilantro (1/2 head)
Medjool Date (4 pitted)
Coconut Water (kept adding until proper consistency)
Blended til smooth in the Vitamix. Used generously on salad.
For snack tonight I may have a piece of fruit. But I'm pretty full.
Check in tomorrow!

Heather Petersen
Facebook: Heather Petersen HP Esthetics
Instagram: HP Esthetics
Pinterest: HP Esthetics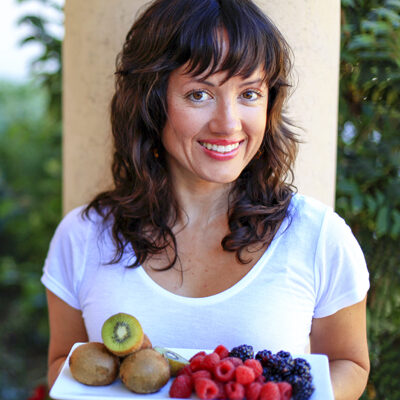 Hi, I'm Christine, thanks for stopping by! As a fibromyalgia thriver (symptom-free for over 10 years now thanks to diet and lifestyle changes), it is my passion to share the healing power of food.
As an RN and Holistic Nutrition Practitioner, it is my desire to empower you to take charge of your life.
Let's journey together to glowing health. Learn More
Your Health Transformation
Starts Here!
Sign up to get FREE healthy lifestyle tips and recipes!