This carob ganache recipe is perfect for when you are craving something rich and decadent and it literally takes one minute to make.  It is raw, vegan and fat-free, so it is actually healthy for you too! What more could you want out of life?!  🙂 Only on the raw food diet can you have such decadent delicious dessert and eat as much as you want and be guilt-free afterwards.  You can actually say you did your body good!
When I am craving chocolate I turn to carob as a substitute.  Carob is naturally sweet and has so many nutritional benefits that I prefer carob over cacao (click here to see why). This is a great recipe for kids too, you can cut up different fruit and let them dip it right into the ganache.  This can also be used as a spread or even as a pudding.  So it is quite versatile.
Recipe:
1 ripe spotted banana
1 cup of dates, pitted (about 7 large medjool dates)
4 Tbsp raw carob powder
(optional) 1 tsp pure vanilla extract
Blend all the above ingredients in a Vitamix  until thick and creamy.
This would also be a great  for parties as an appetizer or dessert.  Cut up several types of fruit on a platter along with this dip.
You could also simply have "chocolate" dipped fruit of choice.  I love it with strawberries!
So rich and yummy!
Carob vs Chocolate: 
– Carob does not contain any harmful substances like caffeine, theobromine, or theophylline.
– Carob is low in fat and calories and does not contain the health risks of chocolate.  In comparison to chocolate, carob has seventeen times less fat.
– Carob is rich in phosphorous and calcium, which are very important in preventing osteoporosis.  In comparison to chocolate carob contains three times more calcium.
– Carob is actually a legume that comes from a carob tree.
– Carob is an alkaline food and is safe enough for dogs to eat unlike chocolate which can seriously injure or kill them.
– Carob has its own natural sugars, unlike chocolate.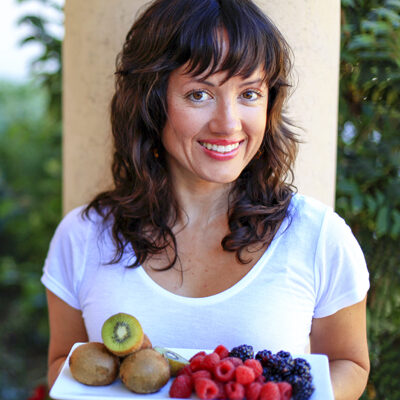 Hi, I'm Christine, thanks for stopping by! As a fibromyalgia thriver (symptom-free for over 10 years now thanks to diet and lifestyle changes), it is my passion to share the healing power of food.
As an RN and Holistic Nutrition Practitioner, it is my desire to empower you to take charge of your life.
Let's journey together to glowing health. Learn More
Your Health Transformation
Starts Here!
Sign up to get FREE healthy lifestyle tips and recipes!