Raw Vegan Savory Chipotle Bell Pepper Soup
Here in Los Angeles we are having quite the unusual winter.  I have actually had to bring out a couple of my New York winter jackets it has gotten so cold! It has rained more in the past two months than it normally does all year. I am not complaining though cause we definitely need it and the mountains surrounding us are exceptionally lush and green and I love it!  Plus I love to put out all my house plants and potted garden out into the yard to get fresh rain water.  My plants having been thriving thanks to it. I little secret I will let you in on is that I like to put a few buckets out to collect the water and use it for my plants over time.  One because my plants love it, but also because it saves water and I am all about recycling and re-using! Every little bit helps, right?
So, all this to say I have been craving warmer foods because of this unusually cold winter here.  One thing that I have really been enjoying is raw soup.  Now just because it's a  raw soup does not mean that it is cold.  I love my Vitamix  for its amazing versatility, one being that it actually heats up to give the food a warmness to it.  So, you can actually have warm raw soup! I just love that!
This is soup is a really nice, savory soup.  I choose to blend it and keep the texture smooth, but you can make it more hearty and filling by adding chopped kale and cut up veggies or anything else that you prefer.
Here's the recipe enjoy!
Recipe:
1 red bell pepper
2 large carrots
1/4 cup cashews. soaked 6+ hours, drained & rinsed
4-5 large basil leaves
10-12 sun-dried (oil-free) tomatoes, soaked in 1/2 cup water.  Do not throw the water out after soaking because you will add the water and tomatoes together in the blender
3/4 cup water
1/4 tsp ground chili chipotle powder
Blend all the above ingredients including the except for the water and the basil in a high-speed blender, slowly to desired consistency.  Blend for about two minutes.  Add basil and continue blending until creamy for about 30 seconds.  Pour into a bowl and serve.  Garnish with basil.
If you prefer a chilled soup, blend until creamy (about one minute) and pour into a bowl and set aside in the fridge for about 25 minutes.
What's your favorite raw soup recipe? I'd love to hear from you!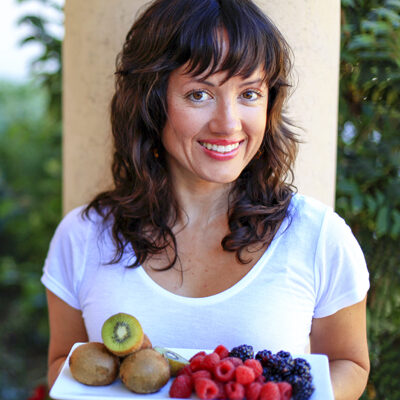 Hi, I'm Christine, thanks for stopping by! As a fibromyalgia thriver (symptom-free for over 10 years now thanks to diet and lifestyle changes), it is my passion to share the healing power of food.
As an RN and Holistic Nutrition Practitioner, it is my desire to empower you to take charge of your life.
Let's journey together to glowing health. Learn More
Your Health Transformation
Starts Here!
Sign up to get FREE healthy lifestyle tips and recipes!