Garlic Chili Cheeze Jicama Fries (Raw Vegan)
Tomorrow I will be taking off to the North West for a week.  We will be starting off in Oregon meeting up with family and then driving up to Washington where we will meet with my brother and his fam.  I am super excited cause I will finally get to spend time with my precious nephew who is only 9 months old! I also look forward to checking out any juiceries or raw vegan restaurants to share with you.
Before I take off I wanted to make sure I share this fabulously delicious, savory, satisfying, comfort food, snack.  How's that for an introduction! hehe.I had promised it quite a while ago and then got very behind due to a little work related injury  to my shoulders.  So I appreciate your patience!  I think, though, that this recipe will be well worth the wait. 🙂
For all of you fries lovers this one is for you.  I know I sure used to be one, and every once in a while, I get a little craving for them.  But, I can guarantee you these jicama chili "cheese" fries hit the spot just as much, and then some.  No greasy fat coming out of the pores after eating them.  No worries or guilt about the added calories, no frying oil, no heart clogging ingredients.  These fries actually feed your body! Go figure that kinda sounds like an oxymoron..fries that can feed your body? That is the beauty of raw foods, since they are not heated their vitamins, minerals and most important enzymes stay in tact nourishing your body bite by bite.
The spices in the recipe can really all be to taste, so add or subtract as you like. They can also be substituted with any spice of your choice.
Recipe:
1 small jicama, peeled and cut into fries
1-2 tablespoons high-quality olive oil
1 teaspoon chili powder
1/2 teaspoon smoked paprika
3 tablespoons nutritional yeast flakes
1/2 teaspoon cumin
1/4 teaspoon garlic powder
(optional) cilantro to garnish
NOTE: These seasonings are all to taste. Depending on how big the jicama is you may need to add more spices according to your taste. Each time I make it the measurements have to be adjusted a little different. Also, for substitution for jicama you can use daikon.
Directions: 1) Peel the jicama and cut into fries, 2) mix in the oil and spices 3) garnish with fresh cilantro or other herb.
I hope you love these as much as I did!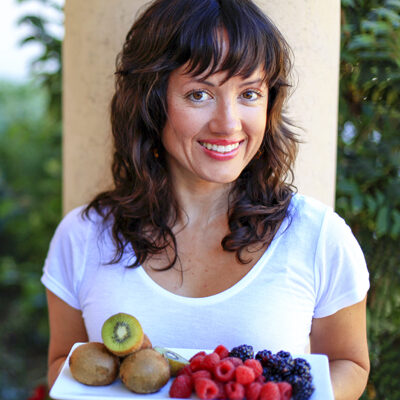 Hi, I'm Christine, thanks for stopping by! As a fibromyalgia thriver (symptom-free for over 10 years now thanks to diet and lifestyle changes), it is my passion to share the healing power of food.
As an RN and Holistic Nutrition Practitioner, it is my desire to empower you to take charge of your life.
Let's journey together to glowing health. Learn More
Your Health Transformation
Starts Here!
Sign up to get FREE healthy lifestyle tips and recipes!