Raw Vegan Spicy Walnut Taco Meat
Even though this is a raw vegan recipe this is definitely one that all will enjoy.  Not only does it resemble ground meat but it truly is an amazing alternative to it as far as texture and flavor.  It makes for a great meatless recipe as you are trying to transition to a plant-based diet.  My husband, who is a carnivore loves this recipe and enjoys it as a meat replacement when I make raw vegan tacos.  So if he loves it I know you will too! While he enjoys his meat, slowly he is realizing that he should cut back on it (progress!).  So for those of you who maybe be vegan with a family who is not, this is a good starter recipe to give them as a meat replacement. If you find you are craving meat as you transition, this helps to satisfy that feeling.  While the majority of my diet is fruits and vegetables, I too every once in a while crave something a little more filling and this recipe really hits the spot.  
  You can use this nut meat in raw tacos, on top of salad, in veggie wraps and many other ways.  Just remember that nuts while healthy, are still high in fat so the majority of your plate should be vegetables, only a small portion should make up the nut meat. This is also a very easy lunch to pack for work.  I usually pack the meatless taco meat in a small container, cut up veggies  in another, and a small head of Romaine lettuce.  You can have it packed the night before and ready to go for the morning.  Doesn't get easier than that!  
This meatless taco meat is so simple and easy requiring only a food-processor.  No pans or stove needed! No oily greasy mess to clean up afterward.  I just love the simplicity of a raw food plant-based diet!  I actually was asked to prepare a raw food dinner for some friends of mine for their dinner party.  So I decided to make these tacos along with other dishes.  There were some hardcore meat lovin men in the crowd so I was a little nervous to see how they would like these.  When I finally asked what they thought they didn't even stop chewing to answer they just put their thumbs up in the air and nodded their head while tearing the taco up! 🙂 They finished the entire platter of tacos, that was the best compliment ever.
So, needless to say these would make an excellent platter to bring to any dinner party.  And like always say, you don't have to tell anyone the dish is raw or vegan just say you brought lettuce tacos.  As long as something tastes good no one even cares what it's called they will be too busy scarfing them down to put some label on it.
This walnut meat is great to make in advance to have ready for the week.  It'll last 3 to 5 days in the fridge and it's perfect to have prepared along with some pico de gallo or other salsa and chopped veggies and when you come home from  along day you don't even need to think, just pull it out of the fridge and you're set.
This walnut based meatless alternative is an excellent source of health benefiting nutrients, minerals and antioxidants.  Walnuts are an excellent source of the Omega-3 essential fatty acids and regular intake of them can help  lower total cholesterol levels in the blood.  Research studies have shown that omega-3 fatty acids help lower the risk of blood pressure, coronary artery disease, strokes and various cancers.  Just those facts alone are an incentive to increase plant-based foods into your diet, as they are filled with Omega-3 fatty acids.
Recipe:
2 cups raw walnuts, soaked over night drained & rinsed
1 cup oil-free sun-dried tomatoes, if they are dry soaked until soft (soak in minimal amount of water, just enough to cover them and pat excess water off)
1 clove garlic
1 tsp fajita seasoning blend  ( I used the salt-free  Spice Hunter brand)
1/2 tsp smoked paprika
2 Tbsp lemon juice
1/4 cup yellow onion
Put all the above ingredients in a food-processor and pulse blend until it becomes a course crumble mix.
Enjoy this meatless taco meat inside a  salad, or with lettuce taco wraps filled with pico de gallo and lots of veggies.  If you plan on using this as lettuce wraps I find butter lettuce works the best because it is such a big leaf so it holds well.
Savor!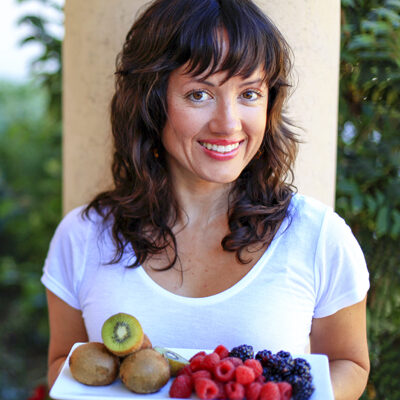 Hi, I'm Christine, thanks for stopping by! As a fibromyalgia thriver (symptom-free for over 10 years now thanks to diet and lifestyle changes), it is my passion to share the healing power of food.
As an RN and Holistic Nutrition Practitioner, it is my desire to empower you to take charge of your life.
Let's journey together to glowing health. Learn More
Your Health Transformation
Starts Here!
Sign up to get FREE healthy lifestyle tips and recipes!