If you are looking for a quick, easy, healthy recipe that you will LOVE, then this mango soup is for you! I am always looking to create recipes that are healthy, practical for busy schedules but at the same time full of delicious flavor.  As a nurse getting up at the crack of dawn, and coming home from a long day physically tired I know the last thing I want to think of is preparing a long, complicated recipe.  So my goal is always 5 or 6 ingredients and no more than 15 minutes to make.  I just don't have the attention span for much more than that lol.  Not to mention, even though my fibromyalgia rarely flares, up thanks to my raw food diet, I do have to make sure I am not over doing it.  And with a very physical job like nursing that tends to take a lot out of me.  So, I believe in keeping things simple.
I have to say what keeps me fueled having such a busy schedule with fibromyalgia is the fact that I consume so many raw fruits and vegetables. They really keep me energized and fuel my body with nutrients to combat the stresses of the day, keep the chronic pain away and other annoyances of fibro like brain fog away.  You can see how beautiful these mangoes  and tomatoes are, so vibrant and beautiful.  Imagine all they are doing for you on the inside to make you vibrant and GLOWING from the inside out.  Truly creating GLOWING health!
Mangoes are one of my favorite fruits.  I love making mono-meals out of them.  That means I will make a meal out of eating several mangoes until I am full and satisfied anywhere between 4-6 depending on how big they are.  They make the perfect lunch to bring to work, all they require is peeling, no prep time in the morning or containers to bring.  I just bring a plastic bag for the peels and a towel, cause they can get a little juicy but oh so yummy! Even for nurses there is no reason not to eat healthy even on a quick half hour lunch break that we get.  This is easy-peasy.
This mango soup goes great with a big green salad and even though it's not included in the recipe you can fill it with all kinds of veggies like chopped cucumbers, bell peppers, or celery.  If you want to pack this as a lunch for work it makes around 32 ounces so you could pack it in a large mason jar and pack your veggies to fill it in on the side, bringing a bowl to pour it all in to, or just a nice BPA-free container that is large enough to hold it all.
Eating healthy should not be a chore.  With just a little creativity and preparation it truly can be something you can enjoy and actually crave becoming a part of your daily routine.
Serves 4 cups (about 32 ounces)
Recipe
2 mangoes peeled and seeded
1 red bell pepper, stem and seeds removed and cut into large pieces
1 1/2 cups sugar-plum (cherry tomatoes) tomatoes sliced thin
1 Thai chili pepper
1/2 lime, juice of
1/2-1 cup water, more or less to desired consistency
1 small handful fresh basil, chiffanaud
Blend all the above ingredients, minus 1/2 cup of cherry tomatoes, in Vitamix on high until smooth.  Pour into a beautifully colored bowl and garnish with the rest of the tomatoes and fresh basil.
Enjoy this sweet and savory soup as it nourishes your body one spoonful at a time!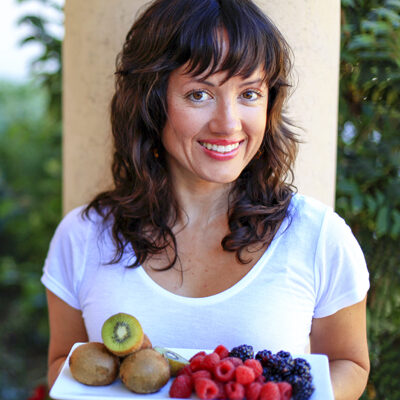 Hi, I'm Christine, thanks for stopping by! As a fibromyalgia thriver (symptom-free for over 10 years now thanks to diet and lifestyle changes), it is my passion to share the healing power of food.
As an RN and Holistic Nutrition Practitioner, it is my desire to empower you to take charge of your life.
Let's journey together to glowing health. Learn More
Your Health Transformation
Starts Here!
Sign up to get FREE healthy lifestyle tips and recipes!