Thirst Quenching Mint Lemonade Whip
Lemons are a staple in my kitchen.  I use them for so many things! For salad dressings, to put in my water to some flavor and their cleansing benefits, I like to add it into my vegetable smoothies and juices to give them a tangy kick.  In the summertime one of my all time favorite drinks is lemonade.  Friends of mine with a lemon tree have been giving me all their lemons this summer so I have been going crazy using lemons in everything I can think of.
When I made this lemonade whip I was looking for a little bit of lip puckering lemon tart, with a minty fresh sweetness that would quench the thirst of the summers heat wave, for a while here it was 110 degrees!  I filled my glass with ice cubes and poured this minty sweet lemonade in and I just couldn't believe it came out so perfect.  I have been making this drink everyday I just love it. What is so great about such a delightful drink is that there is absolutely no added refined sugar in this, just sweet fruit to give you pure energy!
So here is the quick and easy recipe and it only takes three simple ingredients!
Servings 3.5 cups
Recipe:
2 Meyer lemons, juice of (about 1/3 cup juice).
1 cup water
1 cup ice cubes
1/4 cup several fresh mint leaves
5 medjool dates, pitted (add more or less depending on desired sweetness)
Directions: Pour all the ingredients into the blender and blend on high until smooth, pour into a glass and (optional) add more ice and several slices of lemon.  If you don't have Meyer lemon you can just use regular lemon but Meyer lemons give it such a lemon drop sweetness to it.
Sip slowly and enjoy in the sunshine, preferably by the pool. 🙂
If you like this recipe and would like to see more, I invite you to sign up for my weekly newsletters to receive more like this one.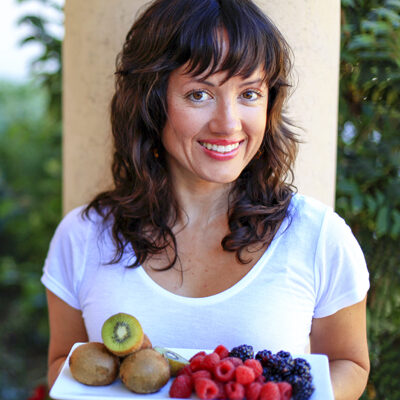 Hi, I'm Christine, thanks for stopping by! As a fibromyalgia thriver (symptom-free for over 10 years now thanks to diet and lifestyle changes), it is my passion to share the healing power of food.
As an RN and Holistic Nutrition Practitioner, it is my desire to empower you to take charge of your life.
Let's journey together to glowing health. Learn More
Your Health Transformation
Starts Here!
Sign up to get FREE healthy lifestyle tips and recipes!