Guest Post: Day 10 Raw Food Challenge + Strawberry Fig Ice Cream
Today was a lovely lazy day with Gramma. I made us a Blueberry Nectarine "Oatmeal" for breakfast.
1 Nectarine
1/2 cup blueberries
 1 tsp cinnamon
1/2  cup walnuts
1/2 mulberries
1/2 cup shredded coconut
Threw it all in the food processor till it was roughly chopped and mixed. Separated it into 2 bowls and drizzled a bit of Raw Coconut Nectar and Almond Milk over the top. Gramma loved it!
Nut Milk recipes are a dime a dozen online. But if you haven't found one yet, here is a quick recipe.
Soak any type of nut (1 cup at least) over night in equal parts purified water. Drain the nuts and put them in the Vitamix with 2 Cups purified water. (You can throw in spices, herbs or sweeteners in as well.) Blend til it appears everything is liquified. Pour contents into a container THREW a Nutmilk Bag to strain the liquid.  You may use the nut meal for other recipes. (I don't strain my nutmilk unless the recipe calls for it.) Voila!  Nutmilk.
Later in the day Gramma treated me to a salad. I squeezed fresh lemon slices over it for dressing.
After having a nap I wanted something refreshing and so I made a Strawberry, Banana and Green Fig Ice Cream.
My aunt stocked the freezer with some frozen fruit for me. I guess Trader Joe's started carrying Frozen Green Figs so she picked up a bag. I thought that was exciting.
I put a cup of Fresh Strawberries that had been refrigerated, 3 large frozen figs and 2 frozen bananas with 1 TBS of Raw Coconut Nectar in the Ninja Blender my aunt owns. I put it on high, drizzled a wee bit of almond milk in while it was going and let it blend til smooth. (I did need to turn it off and move some of the big chunks around but I was impressed the Ninja did a great job.) Topped it with shredded coconut and Blackberries. My uncle and I split it, he thought it was great.
Since my uncle and I were just hanging around, I made him a batch of Cinnamon Ginger DoughNot Holes so he could try them. He thought they were great!
Later I pulled out celery sticks, cucumber sticks, fresh slices of avocado and ate it with a side of the Basil Cashew Cheese I brought down with me.
Find Heather on Facebook, Instagram, Pinterest and Twitter @hpesthetics. For more information on TSA/RSS, check out www.itsan.org, the International Topical Steroid Addiction Network. You can also read about Heather Petersen's experience at: www.eczemancipated.com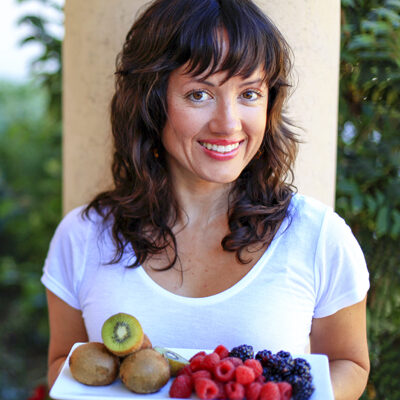 Hi, I'm Christine, thanks for stopping by! As a fibromyalgia thriver (symptom-free for over 10 years now thanks to diet and lifestyle changes), it is my passion to share the healing power of food.
As an RN and Holistic Nutrition Practitioner, it is my desire to empower you to take charge of your life.
Let's journey together to glowing health. Learn More
Your Health Transformation
Starts Here!
Sign up to get FREE healthy lifestyle tips and recipes!