Guest Post: Day 12 Raw Food Challenge + Melon Basil Cheeze Rolls
Well I had to return home today. So my morning was a combination of packing and prepping for the road.
I made a 32 oz Green Smoothie,  I called it "Almond Butter Jelly Time" as an inside joke for a good friend. (She is an amazing artist you can find her athttps://kristingustavson.com and on IG @kristingustavsonfineart)
Frozen Mixed Berries, 1 cup
Dandelion Leaves (large handful)
Lemon (1 juice of)
Coconut Nectar, 2 tablespoons
Raw Almond Butter, 2 tablespoons
Superfood Powder, 2 tablespoons
Coconut Water, 2 cups
Threw it all in the Ninja and Blended.
I had lugged a Honeydew melon all the way from NorCal to SoCal and had no intention of bringing it back. So I made a treat for breakfast before I left, which my Gramma ate right up.  Raw Basil Cheeze (recipe from the Rawsagna day) and wrapped it in Honeydew.
Basil Cheeze Recipe:
1 cup of raw cashews (soak overnight)
1 large handful of basil
1 clove of garlic
1/2 tsp of salt
pinch of black pepper
juice of 1 lemon
In a food processor blend all the above ingredients until creamy and then set aside.
Here is how to assemble:
After peeling and seeding the Honeydew, slice long ways. Then using a Mandolin, create long thin slices to use as the "wrap".
Using a round mini melon baller or a 1 tsp size measuring spoon, scoop 1 tsp of Basil Raw Cheese and place onto a strip of Honeydew about 1/2 inch from one end. Then slowly roll the Honeydew "wrap" around and use a toothpick to hold together. (See picture.) Serve 'em up!
On the drive home I drank water, ate my smoothie and the remaining Honeydew Melon.
I was quite hungry when I got home. So my husband took me to the grocery store and we picked up some yummy stuff.  He came home and fixed me some salsa for tomorrow while I made my Dinner.
English Peas (16oz bag defrosted)
Lime (juice of 2)
Avocado (2 peeled, pitted & sliced)
Cilantro (1/2 head chopped finely)
Pink Lady Apples (2 cored and sliced)
Garlic (1 clove diced)
Pink Salt & Black Pepper (1/2 tsp each)
First put the salt,  pepper,  lime juice and garlic in the bottom of bowl and stir well. Then throw the apple slices in and toss to coat in the lime juice as it will keep the apple from browning. Finally throw the rest of the ingredients in the bowl and toss to coat and mix evenly. Enjoy!
Until tomorrow!
Find Heather on Facebook, Instagram, Pinterest and Twitter @hpesthetics. For more information on TSA/RSS, check out www.itsan.org, the International Topical Steroid Addiction Network. You can also read about Heather Petersen's experience at: www.eczemancipated.com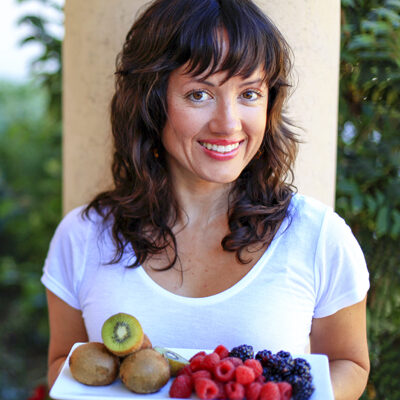 Hi, I'm Christine, thanks for stopping by! As a fibromyalgia thriver (symptom-free for over 10 years now thanks to diet and lifestyle changes), it is my passion to share the healing power of food.
As an RN and Holistic Nutrition Practitioner, it is my desire to empower you to take charge of your life.
Let's journey together to glowing health. Learn More
Your Health Transformation
Starts Here!
Sign up to get FREE healthy lifestyle tips and recipes!