Vegan Cheesy Chipotle Dip
On the raw food diet I have found that just adding a dip or a spread to a simple dish can make all the difference in the world.  If you are one who likes a lot of seasoning or salt and are transitioning to a raw food diet, sauces or spreads really help to add to the flavor without adding a bunch of salt.  This cheesy chipotle dip is vegan so it is dairy-free but it really has a nice cheesy spicy flavor to it.
I like using dips like this to eat with raw veggies especially cauliflower, cucumber or bell peppers.  I bring it to work for my snack and it's so savory and satisfying.  Dips like this can be used at parties as an hors d'oeuvre, poured over zucchini pasta as a sauce, as a salad dressing or used on wraps.
Recipe:
1 cup cashews, soaked 6+ hours drained and rinsed
1/2 large red bell pepper, seeds and stem removed and chopped into chunks
1/4 cup nutritional yeast
1/2 heaping tsp smoked chili chipotle ground powder
1/4 cup water
1 Tbsp coconut amino's
1 lemon, juice of
1) Blend the cashews and bell pepper on high until smooth and creamy.
2) Add the water in slowly to it as it blends.
3) Add the rest of the above ingredients and blend until creamy.
Serve with fresh cut up veggies.
Savor!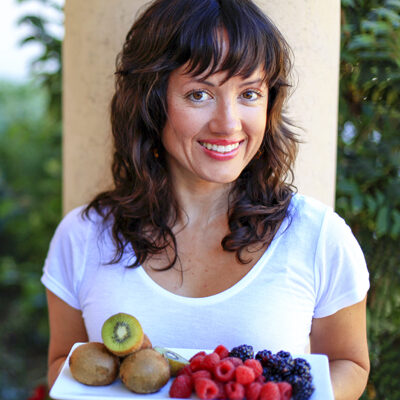 Hi, I'm Christine, thanks for stopping by! As a fibromyalgia thriver (symptom-free for over 10 years now thanks to diet and lifestyle changes), it is my passion to share the healing power of food.
As an RN and Holistic Nutrition Practitioner, it is my desire to empower you to take charge of your life.
Let's journey together to glowing health. Learn More
Your Health Transformation
Starts Here!
Sign up to get FREE healthy lifestyle tips and recipes!