Guest Post: Day 17 RVC + Raw Vegan Not Tuna Salad
The last couple of days I've been trying to recuperate from all of our weekend activity. I feel really groggy and absent minded from exhaustion. Yesterday I told Doug that I can't do more than 2 things a day outside of my normal routine. For instance, Monday through Thursday my normal routine includes 3.5 hours for gym, bathing and taking care of my skin. Then I need a couple of hours for cleaning up around the house, laundry, paperwork, running errands and preparing food. In fact, that's pretty much all I have energy for cause by about 6PM I turn into a pumpkin. So on the weekends and Doug's day off I trade out the gym and household chores for spending time in volunteer work and hanging around with Doug and our friends.  Usually I lay around the house in between doing these things. However this past weekend we were house hopping and doing volunteer work with no breaks and no rest. So I'm "beat like a frog", as my father would say. (If anyone has any idea where that expression comes from or what it means can someone share that explanation with me?)
Day 17 of 30 Day Raw Vegan Challenge
Brunch was a Big Old Green Smoothie, we'll call this Recipe the "Berry Greenger":
Mixed Baby Greens (1 Cup)
Superfood Powder (2 TBS)
Coconut Water (2-ish Cups)
Orange (1 peeled)
Orange (2 Juiced)
Frozen Mixed Berries (1 ½ Cup)
Ginger (2 inch hunk peeled)
Blend it up. It was about 40oz.
Drank a ton of water today, probably because I'm back at the gym after a week off and because it's sunny and wonderfully warm outside.
I found a recipe from Christine for Raw Vegan Mayonnaise, so I made my version of it. So here is my "UnMayo" Recipe:
Cashew Butter (1/2 cup freshly ground from Raw Nuts, I did it myself at Whole Foods)
Lemon (Juice of 2)
Dates (2 pitted)
Garlic (1 clove peeled)
Pink Salt (1/2 tsp)
Purified Water (just enough to drizzle in and adjust the consistency)
Put everything, except the water, into a food processor or a Vitamix. Blend until smooth. Check the consistency and the taste. Add water if needed.
TIP: If you want more of that vinegary taste, add lemon juice. If you want it to be sweeter, like a Miracle Whip, then add dates.  If you want it spicier add Cayenne pepper; smokier use Smoked Paprika etc. Depending on the consistency you want, drizzle in water. If you want that gel-egg texture, then separately put 1 Tbsp. of Chia seeds with 3 Tbsp. water in the blender  and blend til smooth. THEN add the Chia Gel mixture a little at a time to your "UnMayo" until you achieve the pudding texture. 
Premade Mayonnaise in the jars is pretty disgusting to me. I have never made it from scratch so I can't give you my opinion on fresh Mayo. Growing up my mom was a Hellman's Mayonnaise girl and my dad was a Miracle Whip guy. There was constant battle about which condiment they were going to use when making sandwiches. 
The UnMayo is pretty fantastic. It had a garlic spice and the tangy sweetness to it. I would dip veggies in it and spread it on regular sandwiches even when I'm not Raw Vegan. The texture was kind of like a nut butter, so I think I will try the Chia Gel next time. But for sure this will be a go-to dip in my house in the future.
Since I was in the Condiment mood, I made fresh Raw Mustard. Here is the recipe:
Yellow Mustard Seeds (1/4 cup)
Brown Mustard Seeds (1/4 cup)
Lemon Juice (Juice of 6)
Garlic (1 clove peeled)
Pink Salt (1 tsp)
Tumeric (1 tsp)
Place all the ingredients together in a sealable glass container and soak them overnight in the refrigerator. 
Place all the ingredients in the Vitamix and blend until smooth. Move to a glass jar with a lid. It should keep up to 4 weeks in the fridge. It is really spicy at first but slowly loses its kick. (If you want it to stay spicy add Cayenne pepper or Horseradish to your liking.) 
I have made this mustard regularly for about a year. I learned how to make it last year when I was guest blogging here during my last 30 day Raw Vegan Challenge. My husband really liked it so I have just continued to make it.
Since I had chatted with you about my Thyroid the other day, I was craving seaweed. This made me recall that Christine had made a Raw Vegan Tuna Salad dish a ways back. So I looked up the recipe and made it according to the ingredients I had in my fridge and the flavor I was going for. Here is my Tuna Salad Recipe:
Sweet Potato (1 medium, peeled and chopped)
Celery (3 stalks chopped)
Red Onion (1/2 medium, chopped)
Raw Sesame Seed (1 Cup soaked in purified water for 2 hours and then drained)
Throw these ingredients in the food processor; be sure the ingredients are finely blended. Move to a large mixing bowl. Stir in the following:
Lemon (2 juiced)
Dill (dried, 1 Tbsp.)
Kelp Granules (2 Tbsp.)
Cayenne (flakes, 1 tsp.)
Pink Salt (1 Tsp.)
Cracked Black Pepper (1/2 tsp.)
Be sure all the ingredients are incorporated evenly. Then serve.
Comment: Christine used Sunflower Seeds which I imagine probably offered a better flavor then the Sesame Seeds that I used as Sunflower Seeds have a deeper flavor. I would have preferred to use fresh dill but didn't have any. I used Sweet Potato instead of Carrots, which I would do again. But I think I would like to try it with Carrots too.  Also, I used Kelp instead of Dulse; I am not sure the difference. 
DINNER: As you can see from the picture, I scooped 3 helpings of the Raw Vegan Tuna Salad over a bed of Arugula Sprouts for that mustardy flavor. Using both the condiments I made on the cracker really took the meal up a notch. The sprouts, raw vegan tuna, sun-dried Black olives and Tomatoes were piled high on my crackers. And I thoroughly enjoyed the apple slices and cucumber as a pallet cleanser.
I really need a sweet treat at the moment and am unsure what I will do. I'm going to head back into the kitchen to concoct something. See yah tomorrow!
Find Heather on Facebook, Instagram, Pinterest and Twitter @hpesthetics. For more information on TSA/RSS, check out www.itsan.org, the International Topical Steroid Addiction Network. You can also read about Heather Petersen's experience at: www.eczemancipated.com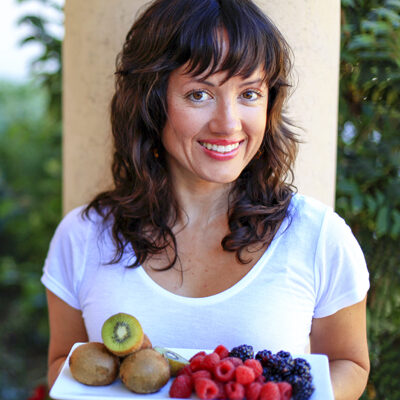 Hi, I'm Christine, thanks for stopping by! As a fibromyalgia thriver (symptom-free for over 10 years now thanks to diet and lifestyle changes), it is my passion to share the healing power of food.
As an RN and Holistic Nutrition Practitioner, it is my desire to empower you to take charge of your life.
Let's journey together to glowing health. Learn More
Your Health Transformation
Starts Here!
Sign up to get FREE healthy lifestyle tips and recipes!