Pineapple Ginger Sorbet-Raw Vegan
This week here in Los Angeles has been a scorcher! There just doesn't seemed to be any place to go to cool off, not even the beaches which are usually much cooler and breezy.  When I get in my car it is usually around 107 to 110 degrees. Yikes! So as you can imagine a really cold drink or a refreshing ice cream is the order of the day.
Making raw vegan ice cream or sorbet is the easiest thing in the world, and it is fun to eat, tastes sweet and refreshing and you only need two ingredients!  In just a few minutes with a high-speed blender you can have fresh, delicious, home-made ice cream free of preservatives, sugar and other toxic additives.
This ice cream is dairy-free, soy-free with no refined sugars and for those who aren't a big fan of bananas this is banana-free also.  This is the BEST kind of ice cream to be feeding your kids one that feeds their growing little bodies with vitamins and minerals to boost their immune system and keep them healthy.  Serve it in a pretty parfait glass with a long spoon and it makes a beautiful presentation.
Recipe:
2 cups pineapple, cut into cubes
1 thumbprint size chunk of ginger
2 1/2 cups frozen pineapple
Place the above ingredients in a Vitamix, or any high-speed blender. (If you don't have a high-speed blender, you can use a food-processor).  It will blend easier if you put the fresh pineapple in first then the frozen.  You will need to mix it as it blends with the tamper (if you have the Vitamix)   Blend on high for about a minute or until it becomes creamy and smooth but not too long because the blade will begin to heat up causing the mixture to melt.
Here are some remarkable health benefits of pineapple:
– Pineapple contains Bromelain, which is a proteolytic enzyme, meaning it helps the body digest proteins more efficiently.
– Bromelain is also considered an anti-inflammatory.  If eaten daily it may help relieve painful joints and mild pain in general.
– A beauty benefit of pineapple: A mask made of crushed pineapple can be very beneficial to the skin due to the enzymes it has. It has a mild exfoliating effect due to the acids, including alpha-hydroxy acid and it may help relieve dullness and dryness from dead skin cells.
– Pineapple contains Manganese, a mineral that is vital to development of strong bones and connective tissue.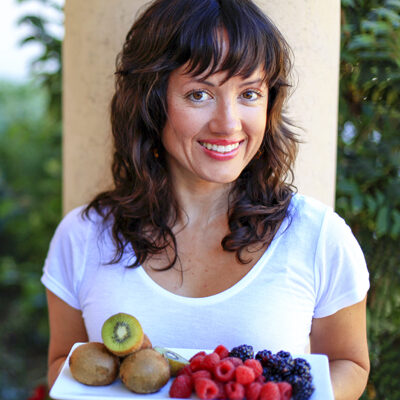 Hi, I'm Christine, thanks for stopping by! As a fibromyalgia thriver (symptom-free for over 10 years now thanks to diet and lifestyle changes), it is my passion to share the healing power of food.
As an RN and Holistic Nutrition Practitioner, it is my desire to empower you to take charge of your life.
Let's journey together to glowing health. Learn More
Your Health Transformation
Starts Here!
Sign up to get FREE healthy lifestyle tips and recipes!