Grocery List for Shopping on a Budget
The count down to June 1st is nearing its end!  Tomorrow we go all out Raw. Today's post is all about shopping on a BUDGET. I'm actually giving you a grocery list meant for 1 person to get 3-5 days raw vegan out of it depending on your appetite. This will go far, especially if you eat a chia pudding or overnight oats daily.
I'm writing this article specifically for my cousins, Loo, Morg and Madi. The girls are all students on a budget and will be joining in the rawventure. The three of them will be helping one another prep and shop. Since the girls wanted to join me for around for a few days or longer, I actually went to the store and grabbed a first run of food with a grocery list to start them off with. 
We'll take it one stash at a time. Here's a picture of the groceries from my Trader Joe's stash run.
Here is a list of each item, it's price and grocery bag total:
BASIC GROCERY LIST:
$1.99 Frozen Spinach
$5.49 UNPASTEURIZED Orange Juice
$1.99 Coconut Flakes
$4.99 Chia Seeds
$2.49 (each)Persian Cucumbers (2 packages)
$5.99 for 3lbs. Fuji Apple bag
$1.33 for 7 Bananas (make sure you let them ripen)
$2.99 for 2lbs. Bartlett Pear bag
$0.79 for 1lb. Bag Whole unpeeled Carrots (2 bags)
$2.29 for 2 bunches in 1 bag Celery
$2.99 for 1lb. Bag Organic Raisins
$5.99 for Steel Cut Irish Oatmeal (these are raw)
$6.99 for 1lb. Raw Almond Butter
$5.99 for 1lb Raw Walnuts halves & pieces
$2.29 Organic Arugula bag
$1.99 Organic Baby Kale bag
$1.29 for 1lb. bag Lemons
$7.99 1 lb. Medjool dates
$3.69ish 32oz bag of Frozen Mango (sale on whole foods brand pictured)
$3.99ish 32oz bag of Frozen Strawberries (sale on whole foods brand pictured )
TOTAL: $76.82
I'm assuming you have spices at home. If you don't, then you'll need Cinnamon for sweet and Pink Salt & Cayenne Pepper for savory. Also below, along with ideas I'm linking a variety of recipes to give you some inspo to get started.
THE SPLURGE (If you can splurge get any or all of)
Avocados
Herbs of your choice (like cilantro, basil, parsley or mint)
Tomatoes
Dried apricot or dried mango
"Flackers" or another brand of raw crackers
"Wrawp" Organic veggie wraps made from entirely raw veggies & seeds. (Find in Whole Foods, health food stores and online)
You may be asking, 'So what do I do with all of this?' Well you should be able to make many combinations of things but here are a few suggestions:
"MYLKS"  (make ahead of time in your Vitamix or high-speed blender)
Banana and water, click here for recipe
Coconut flakes, Cinnamon and water
Nuts and water, click here for recipe
"DATORADE"
Blend Dates & Lemon Juice & Water
SMOOTHIES (with Mylk, Water or OJ)
Mango/Strawberry/Spinach
Banana/Strawberry/Spinach
Cucumber/Spinach/Mango
Pear/Cucumber/Kale
Apple/Strawberry/Kale
Banana/Dates/Almond Butter
Strawberry/Dates/Almond Butter
CHOPPED SALADS (combination options are endless)
Kale/Apple/Celery/Raisins/Walnuts
Shredded Carrot/Apple/Walnuts/Raisins
Arugula/Celery/Pear/Cucumber
Arugula/Carrot/Pear/Chia Seeds
SALAD DRESSING
Fresh Squeeze lemon
Lemon juice/Avocado/Tomato puree
Click here for a recipe
NUTMEAL PORRIDGE  (quickly pulse in food processor)
Apple/Chia Seeds/Walnuts/Raisins
Pear/Dates/Walnuts/Coconut Flakes
Click here for a recipe
CHIA PUDDING or OVERNIGHT OATS
Using Nut Mylk or Water, soak your  Chia or oats overnight. Top with any of the following: Apples, Bananas, Pears, Coconut Flakes, Walnuts, Raisins & Cinnamon. Click here for a recipe.
VEGAN BOARDS
Chop a selection of produce, dried fruit and nuts and arrange a pretty display on a plate
FRUIT & VEGGIE STICKS
Carrot, Celery, Cucumber, Apple & Pear can be chopped up the day ahead and packaged up for you to take on the go.
TRAIL MIX
Mix together the coconut, raisins, chia seeds, walnuts & any other raw dried fruit and nuts you have around. Package serving size of 1/3 cup
Stay hydrated by drinking water with lemon and cucumber slices. Use the "splurge" items to bulk salads, porridges, nutmeals, smoothies, etc. Use the wRAWps to roll up salads or almond butter, apples, pears and/or banana to go. Sometimes you just want a "bread" element and the raw crackers satisfy that 'need'.
You'll find lots of recipes on this blog. Don't forget to checkout Christine's YouTube video on her Just Glowing With Health Chanel where you'll find "Save Money On the Raw Food Diet" for more tips.
HP
@hp_vegivore
www.eczemancipated.com
Click here to

Reply

or

Forward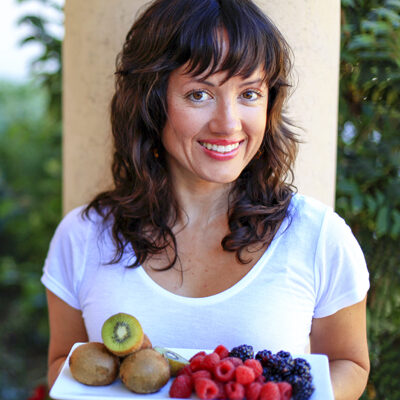 Hi, I'm Christine, thanks for stopping by! As a fibromyalgia thriver (symptom-free for over 10 years now thanks to diet and lifestyle changes), it is my passion to share the healing power of food.
As an RN and Holistic Nutrition Practitioner, it is my desire to empower you to take charge of your life.
Let's journey together to glowing health. Learn More
Your Health Transformation
Starts Here!
Sign up to get FREE healthy lifestyle tips and recipes!