Fall Spiced Pear Oatmeal for Constipation
This raw vegan pear oatmeal is one of my favorite go-to breakfast recipes when I have time to sit down at the table and enjoy. On the go I always have a smoothie in hand but for those chill mornings I cozy on up with a fruity oatmeal bowl like this one. It literally takes two minutes to make, requires minimal prep time and chopping which I know is so important to my fellow fibro-fighters who can't use their hands well due to pain. It's also gluten-free and oat-free so it's much easier to digest than oatmeal.
So often with fibromyalgia due to all the medications one has to take along with the digestive issues that accompanies fibro, constipation is all to common. It can just wreak havoc on your body. I know with my fibromyalgia I dealt with severe digest issues and it's awful, it began to feel like food was my enemy! But all that is gone now, including my fibromyalgia thanks to the raw food diet!
While raw fruits and veggies in general are full of fiber, pears are the ultimate high fiber food packing a wopping 5 grams of fiber each pear, so they're great in helping with constipation.. Regular bowel elimination is so important because health starts in the gut, so it's vital that all the toxins are regularly removed.
Pears are a wonderful fibro-fighter food so take advantage of eating them in your diet. They have anti-inflammatory properties helping to reduce inflammation and being high in fiber they help sustain healthy blood sugar levels. They contain pectin which helps lower cholesterol and maintain digestive health.
Since I used to love oatmeal back in the day, this fruity pear oatmeal really satisies that craving for me and it's so much easier to digest then oats. To make it heartier you can top it with nuts or seeds, fresh fruit or fun toppings like mulberreis, shredded coconut and my personal favorite coconut sugar!
I hope you enjoy this super easy, super healthy and SUPER yummy breakfast bowl and if you get to try it let me know how you like it in the comments below!
Servings 1
Recipe:
Pear Oatmeal
4 pears, ends & seeds removed
4-5 soft dates*, pitted (I used medjool)
1/4 cup sunflower seeds, soaked for 2+ hours drained and rinsed
Cinnamon to taste
Nutmeg to taste
Toppings:
Nuts or seeds of choice
Fresh Fruit
Coconut Sugar
1) Chop pears in half and then half again. 2)Place the pears with the rest of the ingredients into a food processor and pulse blend until it becomes an oatmeal like consistency, make sure not to over process! 3)Scoop out into a bowl and top toppings of choice and fresh fruit.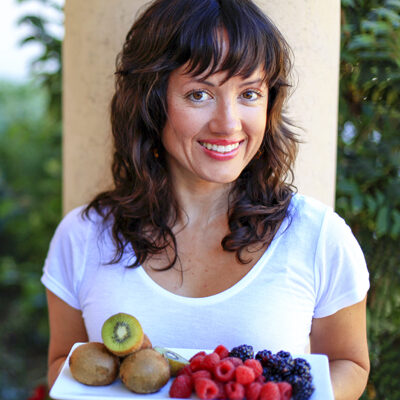 Hi, I'm Christine, thanks for stopping by! As a fibromyalgia thriver (symptom-free for over 10 years now thanks to diet and lifestyle changes), it is my passion to share the healing power of food.
As an RN and Holistic Nutrition Practitioner, it is my desire to empower you to take charge of your life.
Let's journey together to glowing health. Learn More
Your Health Transformation
Starts Here!
Sign up to get FREE healthy lifestyle tips and recipes!