Simple Sweet Green Smoothie
This green smoothie is a perfect place to start for a green smoothie newbie. It's also a great way to get in more dark leafy greens into your diet if you're not a lover of veggies. It's sweet, simple, energizing and only requires 3 ingredients! Even if you're not a newbie what better way to start your morning. It's currently my staple for breakfast cause it's so easy and quick to make. In less than TWO MINUTES you have a nutritious meal. There's really no excuse not to eat healthy!
Most any kind of greens can be added to a smoothie. You can use kale, spinach, Swiss chard, watercress, dandelion or Romaine lettuce just to mention a few. The variety is endless and it's a great idea to switch out the greens you use weekly to get the most of the nutritious value they offer.
Spinach in particular is great for a beginner because unlike kale or other dark leafy greens it doesn't have a strong flavor. In fact, in this smoothie you really don't taste it all. If you're not a lover of greens now, believe it or not the more green smoothies you drink you may notice your taste buds change and you'll actually be craving more greens and even enjoying them, yep craving them!Lol.
Why's it so important to add more greens into your diet? Well simply put GREENS ARE LIFE. They're an excellent source of high quality protein, omega-3, minerals like calcium and magnesium and much more. Dark leafy greens are also a rich source of the life enhancing chlorophyll. Chlorophyll helps build new blood cells and purify the blood. It also helps with anemia, providing a bio-available form of iron that the body can use easily. So make sure to get those greens in baby!
Here are some health facts on spinach that you might find interesting:
– Spinach is a good source of fiber which aids in digestions, prevents constipation and helps you feel satisfied longer.
– Spinach contains the antioxidants lutein and zeaxanthin which help protect the eye from cataracts and age-related macular degeneration.
– Spinach contains flavonoid compounds which work together as cancer-fighting antioxidants.
– Spinach, along with most dark leafy greens,  helps protect the brain from the harmful effects of oxidation causing premature aging and loss of brain function.
Servings: 32 ounces
Recipe:
2 cups spinach
1 1/2 cups water*
2 frozen bananas
1 ripe banana
5 medjool dates, pitted
Blend on high in a blender until creamy and smooth. Pour into a glass jar and drink up!
*If you want to make it creamier you can add any plant milk of choice, my favorite for this one is coconut milk!
What are your favorite greens to use in a smoothie? Leave a comment and share with us below!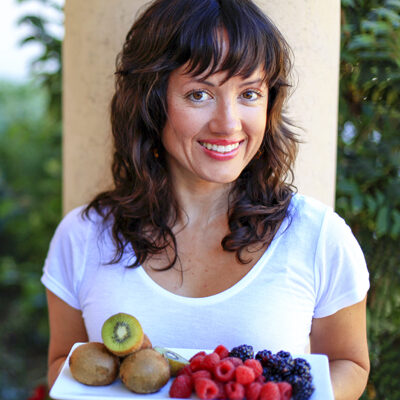 Hi, I'm Christine, thanks for stopping by! As a fibromyalgia thriver (symptom-free for over 10 years now thanks to diet and lifestyle changes), it is my passion to share the healing power of food.
As an RN and Holistic Nutrition Practitioner, it is my desire to empower you to take charge of your life.
Let's journey together to glowing health. Learn More
Your Health Transformation
Starts Here!
Sign up to get FREE healthy lifestyle tips and recipes!