Sweet Vanilla Almond Milk
If you are looking for a creamy, delicious dairy-free alternative then you'll love this almond milk recipe. Almond milk is so versatile and so easy to make not to mention 100% good for you. You can substitute the almonds with any other nuts if you prefer.  If you're allergic to nuts you can substitute with any seed of choice, like hemp or pumpkin.  I always try to keep a large bottle of nut milk in the fridge handy.   I use it for my fruit cereal, as a cold glass of "milk" to drink, and it also makes a great liquid base for smoothies. For the step by step video of making this milk click the link below.
Why buy almond milk in the store that contains chemicals,  preservatives and added sugar.  Homemade almond milk is fresh and filled with fiber, calcium and many essential minerals. Not to mention, tastes so much better than the ones in the store!
The preparation is so easy and it literally takes one minute to make.  This is the kind of milk we should be giving our kids to drink.  It has the perfect plant-based calcium they need for their growing bodies.
Makes 5 cups
Recipe:
1 cup of raw Almonds (soaked overnight in purified water, rinsed and drained)
4-5 medjool dates, pitted (more or less depending on how sweet you want it)
4 cups filtered water (less if you want it creamier)
1 Tablespoon pure Vanilla extract
Put the almonds, dates, vanilla and 2 cups of water in a blender and blend on high until it becomes creamy and thick.  Then, slowly add the rest of the water and continue blending until smooth.   If it's thick, strain it using a nut bag or strainer. (I usually drink it as is because I don't like to waste the fiber).
You can keep it in an air tight container for about 4 days.
Drink up! 🙂
To view the YouTube video of this recipe click here.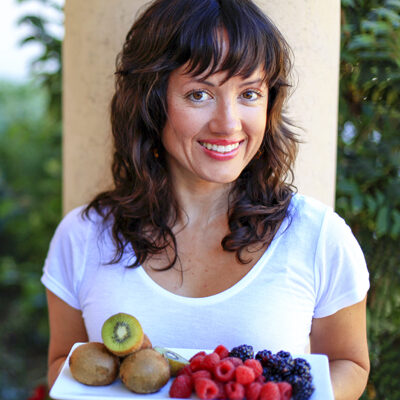 Hi, I'm Christine, thanks for stopping by! As a fibromyalgia thriver (symptom-free for over 10 years now thanks to diet and lifestyle changes), it is my passion to share the healing power of food.
As an RN and Holistic Nutrition Practitioner, it is my desire to empower you to take charge of your life.
Let's journey together to glowing health. Learn More
Your Health Transformation
Starts Here!
Sign up to get FREE healthy lifestyle tips and recipes!