Raw Food Challenge: Day 2
Simplicity
Today was day two of the raw food challenge.  It was a bit hard getting back into the groove of things after having been gone on vacation.  It was one of those trips that went so well, I just wasn't ready for it to be over.  So this morning when the alarm rang at the crack of dawn, I just wanted to roll back over and sleep some more.  Instead I got up and started my morning routine.
I started off with this green smoothie made from several acidic fruit like pineapple, oranges and cranberry with almond milk, hemp seeds and bok choy.  Smoothies are always the perfect start to my day!
Since I puttered around in the morning there was no time to make lunch, so I packed several large, ripe persimmons along with several slices of pineapple.  Packing such a simple lunch made me realize the importance of simplicity.  The raw food diet should be simple, enjoyable, and satisfying.  It should not be made so complicated that it becomes a stress or a burden. I have heard people tell me that they feel it is too much work for them.  But really when you are making your diet one filled with whole, fresh, ripe, organic fruits and vegetables you don't have to go crazy with gourmet recipes.  Many times you can enjoy a meal of just several pieces of delicious, filling fruit.  Eat until you feel completely satisfied.
There are so many lovely raw gourmet recipe books out there.  And they make for a nice treat every so often, but they by no means make up the majority of my diet.  Most of my meals are five ingredients or less are quick to make, delicious and filling.  When you keep things simple, it is more practical on an everyday basis to continue a raw food diet and get the most benefit out of it.  You will find you have more time to dedicate to other things instead of using it always preparing elaborate meals.  So keep it simple and go for the long-term!
Posted in Wellness and tagged with acidic fruit, alarm, almond milk, benefit, bok choy, burden, completely satisfied, continue, cranberry, dedicate, delicious, diet, eat, elaborate, enjoy, Enjoyable, everyday, filling, five ingredients, fresh, fruits, gourmet recipes, green smoothie, hemp seeds, how to, keep it simple, large, long term, lovely, lunch, majority, meal, meals, more time, morning, not complicated, oranges, organic, packed, perfect start, persimmons, pieces, pineapple, practical, prepare, quick to make, raw food challenge, raw food diet, raw gourmet, recipe books, ripe, routine, satisfying, several, simple, simplicity, sleep, smoothies, stress, too much work, treat, trips, vacation, vegetables, whole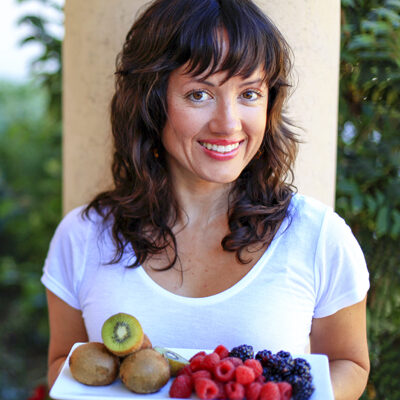 Hi, I'm Christine, thanks for stopping by! As a fibromyalgia thriver (symptom-free for over 10 years now thanks to diet and lifestyle changes), it is my passion to share the healing power of food.
As an RN and Holistic Nutrition Practitioner, it is my desire to empower you to take charge of your life.
Let's journey together to glowing health. Learn More
Your Health Transformation
Starts Here!
Sign up to get FREE healthy lifestyle tips and recipes!