Raw Food Challenge: Day 1
                                                                           COMMITMENT
As most of you know, I have been out of town for the past few days in Northern California.  I had planned to be back on the first (today) so that I could get off to a good start with the raw food challenge. Before leaving I prepared by buying fruit  that were not quite ripe so they would be ready by the time I got back.  I certainly did not want to come home to an empty fridge/pantry after a long trip! But in the end we extended our trip one more day because it was going so well we just weren't ready to leave.
Needless to say I was not at all prepared because the decision was so last-minute.  That's when I realized how important commitment to health or a diet is.  Since just a few days before I had verbalized a commitment to you all and would obviously be held to my word, there was no way I  was going to let the first obstacle that comes, swerve my decision.  I was now determined to stick with it and MAKE a way.  Mind you it is New Year's day so I realized it was going to be a challenge, not too many places were open and we would be driving through highways of California where for miles there is nothing around.  Fortunately, when I go away I always carry at least an extra stash of fruit for a snack in case of emergency…because you never know.  In this case I had several banana's.   For breakfast our friends, who live in Santa Cruz, knowing my choices in food, brought us to the Brasil Cafe where there were tons of juices, smoothies and fruit to choose from.
As you can see I was quite happy with the selection: fresh Guava juice and an Acai bowl filled with fruit.  It was delish! (I apologize for the quality of the pics I just had my cell with me at the time :))
On the drive home, we passed through miles of farmland so I kept my eye open for signs of fresh produce or fruit stands.  To my surprise, just around lunch time we passed a fruit stand with tones of fresh local fruit, I was thrilled! So I bought a bag of oranges and tangerines, which I love! I made a simple fruit meal eating several of them.  It filled me up and I was ready to hit the road again.
When we finally arrived home, I was definitely ready to eat again.  Now, if I came home to an empty kitchen with only cooked items available, it would have seemed so much easier to just eat whatever my husband would eat.  But, once again, having my commitment in mind and having fruit and vegetables ready I made a nice raw vegan dinner which I thoroughly enjoyed.
My point is that when you first decide to start something like a raw food challenge, or some other goal the most important step before you start is making a commitment.  Make a commitment to yourself, but also verbally with your mate, a friend, or family.  By doing this you make yourself more accountable and they may remind you of your commitment, if you stray. Write it on a calendar, or a note on the fridge to keep it in front of you.  This will help you feel more committed to your goal and when obstacles come up you will be sure to stick to your goal instead of using an excuse to restart later.
So I hope this helps you the way it helped me, each day I will try to share a little tip that helped me to see my goal through. I want to thank you all for being there as support! I wish you all success on this raw food  challenge and in your health goals! 🙂
Posted in Wellness and tagged with a note, Acai, accountable, bananas, Brasil Cafe, California farmlands, challenge, commitment, decision, determined, diet, empty kitchen, fresh, fresh produce, fruit, fruit stands, goal, health, health goals, important, important step, juices, local fruit, make a way, making a commitment, New Year's day, Northern California, oranges, persimmons, pineapple, pomegranates, prepared, raw food, raw food challenge, Santa Cruz, selection, smoothies, snack, success, support, tangerines, trip, verbalized a commitment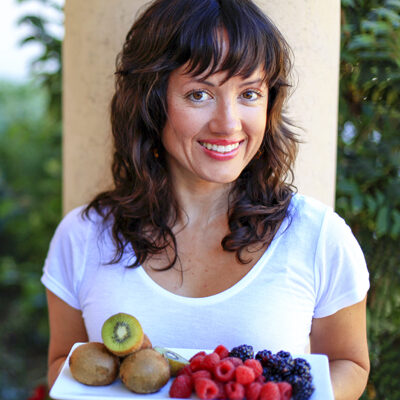 Hi, I'm Christine, thanks for stopping by! As a fibromyalgia thriver (symptom-free for over 10 years now thanks to diet and lifestyle changes), it is my passion to share the healing power of food.
As an RN and Holistic Nutrition Practitioner, it is my desire to empower you to take charge of your life.
Let's journey together to glowing health. Learn More
Your Health Transformation
Starts Here!
Sign up to get FREE healthy lifestyle tips and recipes!