What I Eat in a Summer Day (Mostly Raw Version)
I get asked a lot about what I eat in a average day on a mostly raw food diet. That's a great question and in today I'm going to share with you everything I eat in typical summer day.
In the summer time I eat mostly raw and mostly fruit. It's what my body craves, it gives me the most energy, it's sweet, juicy and hydrating and I feel my best.  I find that whenever I give into cravings, meaning cooked foods, it's a temporary pleasure but for long term or the rest of the day I feel the difference. Since having healed from fibromyalgia with a raw food diet consisting of an abundance of fruit I can always see and feel the difference if I start eating a lot of cooked foods.
As you'll see I keep things simple in the kitchen. I believe in practicality and simplicity to keep my diet sustainable. So let's get started!
I always start my day with half a liter of water, to flush my system and hydrate my body after a nights sleep. I sip on that while I start my morning routine. After that my staple breakfast in the summer is a watermelon smoothie. It's simply blended watermelon with a handful of fresh mint and some ice. I fill my Vitamix blender with 64 oz of cubed watermelon and blend away. If you have a high-speed blender you can blend the seeds they're a good source of protein and minerals.
Watermelon is one of the most healing fruits there is. It's so hydrating, it's alkaline and it's loaded with fiber and protein. It's one of my fibro fighter foods for sure!
In between meals I'm not much of a snacker. I eat three full meals, each until I feel satisfied and they're usually enough to hold me over til the next meal. If I do end up feeling hungry I usually eat more fruit.
For lunch I either have a smoothie or if I'm at home I'll sit down to a smoothie bowl. Today I was at home so I made my Summer Peach Pitaya Smoothie Bowl.  NOTE: I didn't have pitaya so I used frozen berries instead. I sliced fresh peaches and plums instead of the figs shown here and added them on top. So succulent, so delicious!
For dinner instead of the usual salad sometimes a favorite summer meal.. my Gluten-Free Pasta Salad. It's light, it's fresh, gluten-free and it's a great way to get in your greens while having the sensation of something cooked, if you find yourself craving that. This can be varied with spinach or other greens of choice.
Even though I'm not a snacker you might be here are a few ideas of quick easy raw vegan snacks to have on hand that last several days:
In case you have a sweet tooth and are looking for dessert here are a couple of my favorites:
No Bake Gluten-Free Peach Cobbler
Lemon Berry Cheesecake With Berry Sauce
I hope this post was helpful in giving you ideas on what to eat and on what a day in the raw looks like. If you'd like to see more posts like this one please let me know below in the comments and I'll be happy to do more like it!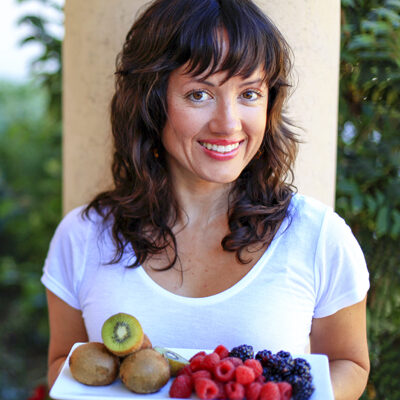 Hi, I'm Christine, thanks for stopping by! As a fibromyalgia thriver (symptom-free for over 10 years now thanks to diet and lifestyle changes), it is my passion to share the healing power of food.
As an RN and Holistic Nutrition Practitioner, it is my desire to empower you to take charge of your life.
Let's journey together to glowing health. Learn More
Your Health Transformation
Starts Here!
Sign up to get FREE healthy lifestyle tips and recipes!