Kale Avocado Blueberry Smoothie (By Shell Harris)
Adding dark leafy greens or other vegetables to a smoothie may not sound all that appealing. Once you get over the initial hesitation, you will find that vegetables are a super healthy and tasty ingredient. Paired with fruit, kale is an excellent way to get more nutrients into your smoothie.
Blueberries are packed with sweet flavor that balances out the kale. Avocados add a creamy texture that smoothies seem to need. Coconut water adds just the right amount of liquid and a punch of electrolytes that we all need to get going in the morning or to replenish us after a workout.
Give this recipe a try. It may change your mind about eating more raw vegetables.
                                                                  Nutritional Benefits
This recipe is vegan and Paleo compliant.
Blueberries are a great source of the antioxidants we all need to help fight damaging free radicals. They are also high in dietary fiber, vitamin K, and manganese. Vitamin K plays a key role in the formation of bones and in the prevention of Alzheimer's.
Kale is also a good source of dietary fiber. It is rich in vitamins A, C, and K, as well as copper. Copper is necessary for the production of red blood cells.Avocados trump with dietary fiber. Dietary fiber is necessary for healthy bowels. Avocados are an excellent source of heart healthy fat, B vitamins, and vitamins C and E. B vitamins are vital for energy and the metabolism of carbohydrates, protein, and fats.
Kale, avocados, and coconut water are all good sources of potassium. Potassium is an electrolyte that is beneficial for cardiovascular health, including reducing hypertension and stroke prevention.
Ingredients
1/2 cup frozen blueberries
1/4 cup kale leaves (veins removed), roughly chopped
1/2 an avocado
3/4 cup coconut water
1/4 cup ice cubes
Directions
1. Place all of the ingredients in a blender and purée until smooth. Drink immediately and enjoy while it is still cold from the ice and blueberries.
Nutritional Profile
Calories: 245
Protein: 6 g
Carbohydrates: 36 g
Fat: 10 g
Fiber: 11 g
Sodium: 55 mg
Potassium: 630 mg
Note: Values are approximate and may vary depending on the brand of coconut water used.
This smoothie recipe hits all the right marks for nutrition, taste, and texture. It may convince you to use more fruits and vegetables and leave behind the dairy and any added sugars. There are plenty of healthy smoothie recipes like this one at smoothieweb.com.
BIO: "Smoothie Web is the home of 500 healthy, and not-so-healthy smoothie recipes that taste great (hey, not everyone likes broccoli, right?) 
With over 50 different categories you can be sure to find recipes to any goal: weight loss, detox, health conditions, etc.  
If you like all things smoothie, make sure to pay a visit 🙂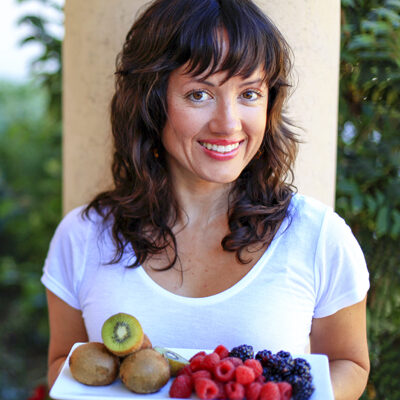 Hi, I'm Christine, thanks for stopping by! As a fibromyalgia thriver (symptom-free for over 10 years now thanks to diet and lifestyle changes), it is my passion to share the healing power of food.
As an RN and Holistic Nutrition Practitioner, it is my desire to empower you to take charge of your life.
Let's journey together to glowing health. Learn More
Your Health Transformation
Starts Here!
Sign up to get FREE healthy lifestyle tips and recipes!