Gluten-Free Arugula Basil Tomato Pasta Salad
This is a gluten-free pasta recipe that I threw together this week while staying in Rome with my husbands family. In between sight seeing we came home for our "siesta" which my husband maintains as a regular tradition, even after having left Italy five years ago. He's got me in the routine here in Italy and I actually feel so good when I get to break up my day with a nap. I get through the day so much more energized and by the evening feel so much better. Unfortunately when not on vacation it's just not always possible, but you gotta love the Italian traditions!
Here a few highlights from our trip:
Roman Ruins
Trastevere, Rome
So back to the recipe 🙂 . This is now one of my go to recipes when I'm short on time but want something savory, satisfying and full of fresh flavor. It literally takes ten minutes to make, and is so easy. It's made with just a few simple ingredients and is totally delicious! Trust me you're gonna wanna to make this one (wink). It's great anytime of the year but it's a really nice fresh dish for a summer evening and the whole family will enjoy it.
Nowadays gluten-free pasta is becoming so easily accessible you can find it even in your local grocery store, usually. Barilla pasta makes a wonderful gluten-free pasta..but of course it's made by the Kings of pasta..Italians! But if you can't find that one I really enjoy the quinoa or corn pasta found in most health food stores. They don't become one sludgy mess like rice pasta often does. They seem to maintain their texture better.
Going gluten-free was essential for me in healing my fibromyalgia. In fact, on the rare occasion when I first started I'd get off track and indulge for a few days in gluten rich foods I noticed my pain instantly flare up. It would literally cause a flare-up. So now I've just come to the realization that it's just not worth it. I don't miss the pain or digestive issues enough to indulge to that point.
There really is no exact recipe needed it's all really to taste, but I wrote down how much I used to give you an idea of quantity used for one portion. Feel free to adjust adding more or less as you wish. It can easily be turned into a dish that feeds four.
Servings 1
Recipe:
Gluten-free Penne pasta (3 handfuls)
Arugula (1/3 of the bag)
Roma tomatoes, diced (10-12 small ones)
Italian olives
1 clove garlic, minced
High-quality cold pressed olive oil (1/2-1 tablespoon)
Fresh basil (a handful), chopped fine
(optional) 1/4 teaspoon chili flakes
1) In a small pot cook the pasta (follow directions on the package for proper cooking technique and timing). 2) In the meantime, in a medium size bowl add the rest of the above ingredients. 3)When pasta is cooked, drain the water and add with the rest of the ingredients mixing in well. Serve and enjoy.
If you get a chance to try it leave a comment below and let me know how you liked it!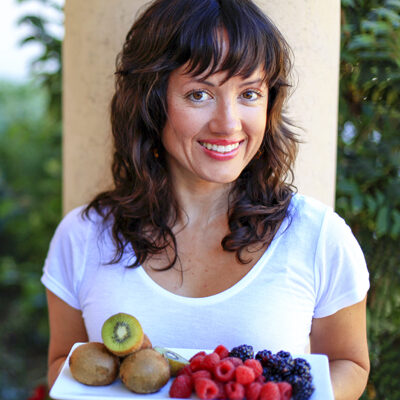 Hi, I'm Christine, thanks for stopping by! As a fibromyalgia thriver (symptom-free for over 10 years now thanks to diet and lifestyle changes), it is my passion to share the healing power of food.
As an RN and Holistic Nutrition Practitioner, it is my desire to empower you to take charge of your life.
Let's journey together to glowing health. Learn More
Your Health Transformation
Starts Here!
Sign up to get FREE healthy lifestyle tips and recipes!