Highlights of Puglia + Trip Itinerary + Vegan Eats
In June we road tripped it to Puglia (Italy). It has been a dream of mine for years after having seen an ad on a travel magazine in the back seat pocket of an airplane I was traveling in. The cover featured a Trulli Village and I was instantly fascinated . It looked like an enchanted fairytale land. It was a sea of white stone huts in a dessert land with pops of cherry red colored geraniums in flower boxes. It was uniquely stunning and I decided one day I was going to visit Puglia and stay in a trullo!
This past month my dream came true! Puglia is truly a special place. The people, the food, the land, the sea, the culture.. it made for one of the most enriching experiences.
In this post I'm sharing just the HIGHLIGHTS of our trip, and in the order of our travels. This gives you an idea of how to plan a road trip from top to bottom to see the most of Puglia. There's so much to see. Two weeks was barely enough time and there's still places we didn't get to see.
We started from Rome. Our ultimate destination was Salento, which is where some of Puglia's most breath taking beaches are. We spent most of our time there as our base, since there are so many places to see all within an hour drive in any given direction…more on Salento later.
From Rome to Salento would've been an 8-9 hour drive so we decided to break it up over four days stopping at all the most popular sights along the way. It was so much more enjoyable and relaxing this way.
GARGANO
The first stop we made in the north of Puglia was Gargano. The beauty of Gargano is not only in the beautiful Adriatic turquoise Sea and white sand beaches but the untouched nature surrounding it in the National Park. We stayed just one nigh, but I'd recommend a couple of nights if you're into exploring nature.
WHERE TO STAY? We stayed at the Gusmay Resort.It's a beautiful resort with a swimming pools and a private beach just steps away.
VEGAN OPTIONS? They have two restaurants on site and a caffè. Breakfast is included although the vegan options were scarce, quite disappointing. It was a variety of sugary canned fruit but the saving grace was a large bin of fresh cherries which I basically brought the whole thing to my table, so that was a score!
The same restaurant at lunch offers a beautiful plate of fresh fruit for only 5 euro which was such a nice surprise. Then for dinner they offer an all you can eat buffet for 30 euro, which had some vegan options but not enough to make it worth the price.
The cafe offers fresh made juice and salad, both of which were quite small for a big price but if you have no other options at least it's something. Next time I'd prepare ahead bringing my own fruit or just go out to eat nearby.
PESCHICI
From Gargano we set off to Peschici which is a coastal town and famous for their coastline watch towers. The less than hour drive there was spectacular, it took us through Gargano National Park with winding roads, beautiful plush mountain sides and coastal views. We even had a scene straight out what I'd picture in an old Italian film…We literally had to stop our car to let pass several slow stollin' cows that stared us down as we slowly drove on by, it was so awesome!
We found an off the beaten path untouched beach called Lido Cala Lunga where we spent the day. Other sites I absolutely recommend are the Baia dei Megoli and Vignanotica Beach. Unfortunately I didn't get pictures of either.
WHERE TO STAY? We stayed one night here at the Residence Vignanotica an apartment nestled in the mountainside amongst the olive and pine trees. Nothing fancy but it was close to the beaches, private and so beautiful to be nestled in nature.
TRANI
On our way to our next destination, Alberobello, we stopped for lunch in Trani. A picturesque fishing port in Puglia that dates back to the 3rd century AD.  It's a great place to spend the day with its quaint artisan shops, medieval churches, historical buildings and most importantly one of the best vegan restaurants I've ever tried, Padre Bio.
I won't go into detail here about this town because I'm going to write a post specifically about it and especially this fabulous restaurant. Just make sure to put this town on your itinerary and make sure to show your support to Padre Bio you won't regret it! The whole family loved it.
ALBEROBELLO (THE TRULLI VILLAGE)
Finally we arrived to Alberbello, the whole reason this trip first started! Alberbello is a must see if you're coming to Puglia, you simply cannot skip this place. It's simply enchanting with its unusual village of trulli. A trullo (singular) is a white-washed conical roofed structure typical to this area of Puglia. It's built with limestone and dry stone walls constructed without using cement.
WHAT TO SEE IN ALBERBELLO? So glad you asked :).  The main attraction is the trulli district where you can walk through the village and even tour inside an actual trullo. There are tons of quaint shops, outdoor markets, cool restaurants and caffè's.
If you're looking for some good eats the Trattoria Terra Madre is a farm to table restaurant using seasonal ripe organic produce straight from their garden. The trattoria itself is an old restored trullo which makes for a unique experience.
WHERE TO STAY IN ALBEROBELLO? If you want a memorable experience you must stay in a trullo. I highly recommend the Paparale Trulli which is where we stayed for two nights. I will be doing a post just on our experience here so stay tuned. Anyway, it sits on 2 acres of land, part of which are occupied by olive, almond and fruit trees that you have complete access to. I was picking cherries every morning for breakfast! P.S. If you're looking for a good vegan brioche there's a cafè/bar called Hashtag that offers vegan brioches,
POLIGNANO A MARE
From Alberobello we did a day trip to Polignano a Mare, a town on the Adriatic Sea in the Province of Bari. It's built on the edge of a craggy limestone cliffs and dates back to the 4th century. We packed our lunches and enjoyed relaxing on the beach (pictured above). If you're a shopper there are a ton of great shops to browse through. In the main piazza there were carts of olives, almonds, sun-dried tomatoes being sold. Puglia is known for it's olives so if you're an olive-lover like me you'll go crazy with all the options to choose from and they're all a unique experience for your taste-buds!
OSTUNI
Leaving Alberobello en route to Salento, Puglia we stopped in Ostuni for the day. Ostuni is located in the Province of Brindisi. It's also referred to as "The White Town" because of all the towns white washed walls and white painted architecture. When you first come to the town the striking contrast of a sea of white walled buildings on the mountainside is nothing short of stunning.
The town is filled with small roads, alleys and staircases lined with red geraniums creating such a charming atmosphere. Once again there are a ton of artisan and hand-made local crafts shops that will keep you busy for hours if you're a shopper. I'm a huge supporter of the local independent craftsmen so I really look forward to finding these kind of shops. Their products are usually one of a kind, unique and of much higher quality. Not to mention made locally so you're supporting a community not a cold chain of imported goods that wreak havoc on the environment.
PUNTA PROSCIUTTO, SALENTO
From Ostuni we went directly to our final destination Torre Lapillo of Salento in the very south of Puglia. We stayed for twelve days there using that as our base for several day trips. My favorite nearby beaches were Torre Lapillo Beach and Punta Prosciutto (seen above). The beaches in this area are comparable to the Maldives. In fact their called the Maldives of Puglia. The water is pristine, untouched, pure natural beauty and white sand beaches.
I'm always on the search for the next best immaculate beach and pristne waters in the world and I have to admit the beaches of Salento quenched my seemingly insatiable thirst for the next best beach. I've found them right here in Puglia!
PORTO CESEAREO, SALENTO
Porto Cesareo is just next door to Torre Lapillo and makes for a fun afternoon of strolls along the sea, tasting local foods and shopping, besides typical and local artisan shops they have a big out door market here once a week. I found a Creperia that made gluten-free crepes with a vegan Nutella chocolate that was quite yummy called Salento Crepes.
This place had the best shopping, with a ton of artisan made clothes, shoes, accessories and jewelry…don't tell my husband (winkey face) but I kinda had a crazy shopping spree here they just had the most fabulous things! He loved everything I bought so it was all good!
 OUTDOOR MARKET AT PORTO CESAREO
I really didn't eat out here at all, I was enjoying all the local produce from these outdoor markets that to be honest I wasn't even tempted as the rest of my family were eating pizza, pasta and the likes. I was so happy with the most succulent fruits and savory salads  was eating. Oh and by the way since it was a road trip I of course brought my Vitamix…my otto is 'Don't leave home without it' when possible. It made my life so easy making smoothies every morning and for lunch foten times. My family even starting asking for them too! I pretty much ate raw every meal except for two the entire trip.
So make sure to buy the produce from the outdoor markets it was definitely superior to that of the grocery markets.
TORRE LAPILLO, SALENTO
LECCE
If you're down in the South of Puglia Lecce is a must. It's a small historical town with rich baroque architectural style.  The architecture here is extravagant. It's commonly called the Florence of the South.  The city's limestone structures and the architect make this town quite distinct.
It's over 2,000 years old..which just blows me away. In fact, in the center of town are ancient ruins of a Roman amphitheater. Lecce has its fill of artisan boutiques and outdoor cafes, picturesque little lanes and alleys to wander around for hours. We spent the day here and it was plenty of time.
VEGAN EATS? My favorite find was an eclectic hippie juice and smoothie bar Frullaló. The owner was totally cool and on such a hot humid day it was an oasis to get fresh pressed cold juices and smoothies made. They also had fresh fruits and snacks.
Next we stopped for gelato at Gelateria Martinucci which had several vegan options. For lunch we ate at the pizzeria Puccia&Paccia where they totally accommodated my vegan needs customizing my own pizza. They also offer healthier alternatives to white flour for all their bread products and they had the best salad I've had in a long time. For dessert we enjoyed pastries at the historical Caffe Alvino in the center of town. They offer an amazing vegan version of the pastry  'Pasticiotti'!
SANTA MARIA LEUCA
THE GROTTOES OF SANTA MARIA LEUCA
Our final day trip was to Santa Maria Leuca. This town sits on the most southern tip of the heal of Italy where the Ionic Sea and Adriatic Sea meet. It's famous for its lighthouse, jagged cliffs and natural caves. The best way to see these is by renting a boat, there's plenty of excursions to choose from. If you do tour by boat make sure to see La Grotta del Soffio, a unique cave not to miss.
And there you have the highlights of our trip to Puglia. I really hope you enjoyed it! Which place would you like to see? Leave a comment below I'd love to hear. Also if you enjoyed this type of travel post let me know below and I'll start sharing more of my travels here in Italy with you!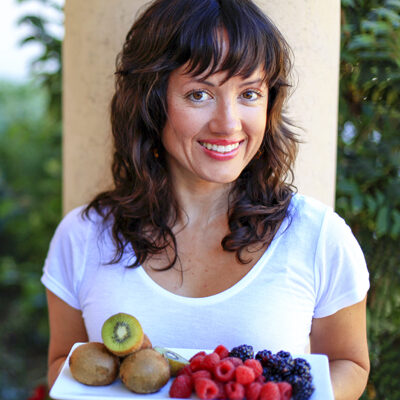 Hi, I'm Christine, thanks for stopping by! As a fibromyalgia thriver (symptom-free for over 10 years now thanks to diet and lifestyle changes), it is my passion to share the healing power of food.
As an RN and Holistic Nutrition Practitioner, it is my desire to empower you to take charge of your life.
Let's journey together to glowing health. Learn More
Your Health Transformation
Starts Here!
Sign up to get FREE healthy lifestyle tips and recipes!