Lemon Coconut Protein Balls (Raw Vegan)
I love to make bite size snacks because they're so convenient to bring along when you're on the go. Keeping some always on hand really helps when you're in a pinch and don't have much time. You just pop a few in your bag and you're good to go. Lately my husband's been asking me to make him some healthier snack alternatives so he doesn't fall back into bad habits. If he has healthy food around he'll eat it, but he won't go out of his way to make it or look for it. So, I really try to have something always around for him.
He's not a breakfast smoothie kinda guy, he prefers something that he can chew and that feels hearty. That's why I created these lemon coconut protein balls for him. He loves them in the morning and as a snack during the day. He says their energizing and satisfying. If he thinks so then I know you will too!…If I haven't told you already, he's my hardest critic to please (when it comes to healthy food) and I kinda like that cause it challenges me to get creative.
Recently I was sent a box of these Sun Warrior Protein Blends to try out. What I love about them is that they're raw and vegan, so they're 100% plant-based, gluten-free, Non-GMO, free of chemicals and other nasty ingredients that most protein powders contain.
I particularly like the Warrior Blend because it doesn't contain any hard to digest fillers like xantham gum, so commonly found in processed foods. It's digested easier, nutrient filled and contains all the amino acids.  So this is the kind of protein powder I'm happy to share with my family.
I just love the fresh taste of lemons so these are quite lemony but you could use lime or even orange juice if you prefer.
I shared these protein balls with several of our friends and they scarfed them down. The guys loved that they're full of protein without that artificial sweetener taste and pasty protein powder taste.  These balls are gluten-free, raw and vegan and are high in protein so if you're looking for an energy boost to get your day started or a pick-me-up to get you through that afternoon lag give these protein balls a try.
These are so yummy, moist and the fresh lemony flavor just makes them so delightful! With just THREE simple steps these babies can be whipped up so don't procrastinate just make them already! 🙂
Makes 15 balls
Recipe:
2/3 cup cashews (or macadamia)
2/3 cup shredded coconut
1/4 cup Sun Warrior Vanilla protein powder (or other protein powder as desired)
3 tablespoons lemon juice
2 tablespoons coconut butter
1 tablespoon maple syrup (add more for desired sweetness)
1) Process the cashews in a food processor until it's a fine to coarse mix. 2) Add the rest of the ingredients and blend until it turns into a crumbly sticky dough. 3) Scoop out using a melon ball scooper (or a tablespoon) and roll into bite size balls. OPTIONAL: Roll in shredded coconut or hemp seeds. 4) Refrigerate for at least an hour to harden.
NOTE: You can substitute with brand of vanilla protein as desired. If you choose not to use protein powder simply  increase the coconut and cashew measurements to 3/4 cup instead of 2/3 cup. Coconut butter can be substituted with coconut oil. Maple syrup can be substituted with sweetener of choice.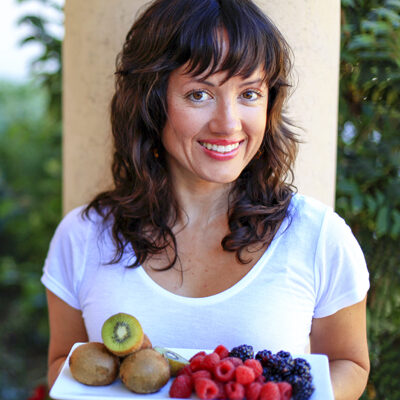 Hi, I'm Christine, thanks for stopping by! As a fibromyalgia thriver (symptom-free for over 10 years now thanks to diet and lifestyle changes), it is my passion to share the healing power of food.
As an RN and Holistic Nutrition Practitioner, it is my desire to empower you to take charge of your life.
Let's journey together to glowing health. Learn More
Your Health Transformation
Starts Here!
Sign up to get FREE healthy lifestyle tips and recipes!