This peach pitaya bowl makes for the perfect summer breakfast. It's refreshingly cold, sweet, and can be made in just five minutes with just five ingredients. How simple and easy is that? And I promise when you take your first bite and taste the sweet white peach juice in your mouth with the refreshing cold peach pitaya nice cream you'll be in heaven. Every time I take my first bite I just smile in pure enjoyement. I'm not the only one that does that….right? lol. I'm just in awe of how simple food can be and yet so succulent, mouth-watering, and nourishing at the same time. It's the best lifestyle ever on raw foods! 
It feels so good knowing that every bite I put in my mouth goes to making me stronger and keeping my fibro flare-ups far far away. There's no place for chronic pain, fibro fog and fatigue in this bod.
I was recently sent a pack of pitaya smoothie packs from Pitaya Plus and I couldn't wait to start blending away. It's always a happy day when you come home to a large box on your door with tons of samples in it. I'm such a fan of these smoothie packs. They're non-gmo verified, organic, no sugar added and of course raw.
They're so easy you just break open the pack , put it in a blender with whatever fruit or juice you want and voilà! When I'm traveling I'll pack these into a little cooler and take them on the road with me along with a travel blender, they're so convenient.
In case you're wondering what pitaya is, it's basically another name for the exotic dragon fruit. They are a good source of fiber, magnesium (which fibro- fighter's are usually deficient in), B vitamins which help support the nervous system and tons of antioxidants.
Even though I've been on the raw food diet for over four years now, and I'm telling you it never ceases to amaze me how gorgeous LIVING foods are. I mean just look at this color?? How intense and vibrant it is. I always say, "If you're eating such vibrant, living foods imagine how vibrant and ALIVE they make you feel on the inside!"
Make sure to fill the bowl up with lots of fresh, ripe fruit and you will stay satisfied for hours with this. I can't wait for you to try it! In this heat here in LA I've been eating this everyday for breakfast and sometimes even lunch, it's so cooling.
Servings 1
Recipe:
2 frozen bananas
1 pitaya smoothie pack
1 1/12 cups frozen mango
1 super ripe white peach, chopped and seed removed
1/4 cup coconut water (add more as desired for a less thick consistency)
Place above ingredients in a high-speed blender or food processor. Process on high until thick and creamy. If you have a Vitamix you will need to use the tamper to scrape down the sides as it's blending. If not you will need to stop the blender (or food processor) and scrape down the sides with a spatula, a few times. Scoop out into a bowl and top with fresh sliced peaches and figs, or fruit of choice. The pitaya smoothie pack can be substituted with fresh pitaya.
NOTE: You can buy these smoothie packs at Whole Foods or order them directly from Pitaya Plus online.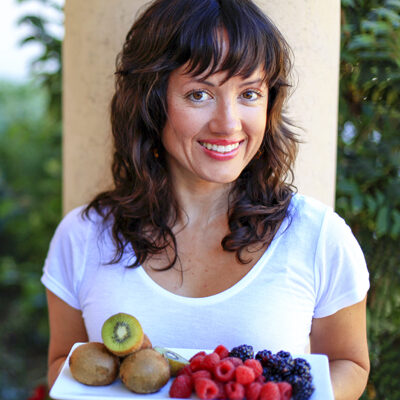 Hi, I'm Christine, thanks for stopping by! As a fibromyalgia thriver (symptom-free for over 10 years now thanks to diet and lifestyle changes), it is my passion to share the healing power of food.
As an RN and Holistic Nutrition Practitioner, it is my desire to empower you to take charge of your life.
Let's journey together to glowing health. Learn More
Your Health Transformation
Starts Here!
Sign up to get FREE healthy lifestyle tips and recipes!