30 Day Raw Food Challenge
Welcome to the 30 day raw food challenge starting Monday May 12th! As previously announced I will be hosting this challenge along with my friend and fellow blogger Heather Petersen.  You may remember her from a year ago when she guest blogged 30 day experience eating raw vegan for a month as she raised awareness for Red Skin's Syndrome.  Her journey to healing continues as she is into her twenty-fifth month of detoxing from all the past steroids that she had taken for her eczema. The journey she was told could take up to three years! So, starting Monday she will once again be guest blogging on my website for 30 days her journey of healing through raw foods and sharing her daily recipes with us.  So please make sure to sign up to automatically receive the posts so you don't miss out on the latest! We are both thrilled to have you join us!
I have received a lot of questions about the raw food challenge so I will attempt to answer as many of them here as I can. Before getting started I do want to advise you that the average person requires a minimum of 1800 calories a day so please make sure you are eating enough.  If you need help getting an idea of how much food that would be on a raw food diet here are two apps you can use to count your calories until you are used to eating the proper amounts: FitDay.com and Cronometer.com.
What Does the Raw Food Diet Include?
The raw food diet that we will be following for this challenge is one composed of:
– Whole unprocessed foods
– Whole, fresh, ripe fruit
– Vegetables
– Leafy greens, sprouts
– Raw nuts and seeds.
– Organic when possible.
– Frozen fruits or veggies are fine just make sure on the label of the package that there is no added ingredients.  Or if you choose to freeze them yourself even better.
– Dehydrating is also permitted but should be at a temperature no higher than 118 degrees, and should really be used sparingly.  The majority of the foods should be whole, unprocessed fruits, vegetables and leafy greens or sprouts.
NOT INCLUDED
– Prepackaged processed foods
– Grains
– Beans
– Dairy, eggs or any animal based products
– Meat
– Honey
– Vinegar
– Alcohol
– Caffeine
– Oil
– Salt
Can I Use Condiments or Spices?
Any condiments unless made with raw ingredients should be avoided here is a recipe for raw mustard.  Coconut amino's (basically a soy-free soy sauce substitute) are raw and can be used sparingly.  Otherwise I recommend making use of fresh herbs to add extra flavor.
I Don't Know Where to Start 
I know this can seem overwhelming initially, so I will share with you how I eat during the day.  I also have provided a 30 day raw food journal with what I have eaten in a 30 day period being 100% raw in that time.  Please reference that for ideas, recipes and each meal has all the ingredients written out for you.  Keeping things simple helps to maintain this diet successfully and feel your best.
I start most mornings out with a 32-48 ounce of smoothie or juice.  For lunch I have a fruit meal, sometimes a mono-meal which is eating one fruit until completely satisfied.  Mangoes are my favorite mono-meal! For dinner I will have one of three things: 1) Zucchini noodles with a dressing, 2) A large green salad filled with fruit or veggies, or 3) A savory soup.  For more recipe ideas please reference the many recipe posts I have on my website or the 30 day raw food journal.
I Can't Afford to Buy Organic
Here is a helpful list called the Dirty Dozen List showing which produce are the most filled with pesticide residue thus, most important to buy organic.  If you find it cheaper to by the rest non-organic it is still better than not eating fruits and vegetables at all.  Also, buying in bulk helps save money.  You can also check out my you tube video where I talk about shopping and how I save money.
What If  My Family is Eating Cooked?
If they choose not to do raw, you can ask them if they are willing to do plant-based cooked.  This way you're eating the same foods but one is cooked. Otherwise, the way I deal with it is that I make my  raw meals the side dishes for my family.  This way I'm not preparing two completely different meals.
What are Good Resources for Quick/ Easy Eats?
My go to for quick easy eats is whole fresh ripe fruit like bananas or mangoes or I make a smoothie and bring it with me. Veggie sticks are a great snack to have on hand, or even energy bites. It doesn't get easier than that.  I also have many quick east simple recipes for busy people on my website.
Is the Raw Food Challenge For Everyone?
While the raw food diet is  an excellent way to facilitate the body's cleansing and healing process there are some conditions that are best supervised under a health care professional.  If you are under the supervision of a doctor for an illness like diabetes, or are pregnant, or are breast-feeding I recommend you to consult a health professional before starting.
What Can I Expect to Feel on this Challenge?
Everybody's experience is different but the end results are AMAZING! Here are some of the common events of the first initial phase while detoxing: Groggy, headache, tired, or nausea. Not everyone experiences these symptoms but if you do please know that once they most people feel their energy surge, see their skin clear up, sleep better, lose weight when needed,  eyes brighten, mood feels happier, clear head and mind just to mention a few.
For more tips and ideas please check out my new you tube channel Just Glowing with Health, and make sure to subscribe to receive my latest videos! I hope this is helpful for you, please share if you know anyone that can befit from this post.  Once again I am SO thrilled to have you joining us! Please leave any pertinent questions or comments about the challenge below.
Lots of love and glow!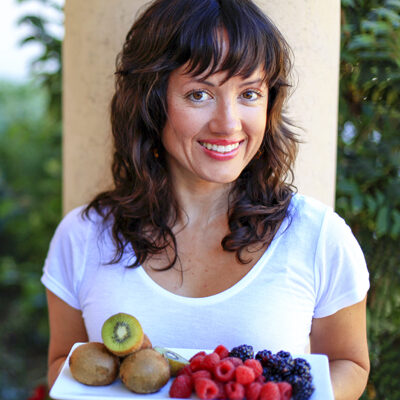 Hi, I'm Christine, thanks for stopping by! As a fibromyalgia thriver (symptom-free for over 10 years now thanks to diet and lifestyle changes), it is my passion to share the healing power of food.
As an RN and Holistic Nutrition Practitioner, it is my desire to empower you to take charge of your life.
Let's journey together to glowing health. Learn More
Your Health Transformation
Starts Here!
Sign up to get FREE healthy lifestyle tips and recipes!