I am so excited to share this fabulous mac & cheese recipe with you! I whipped it up one night when I was craving something comforting, creamy and cheesy and boy did it hit the spot!  Even more exciting for me is the fact that my husband, who doesn't take to raw foods too easily, and my good friend Nubia who is new to raw foods, both gobbled it down and quickly asked for more.  If that's not success then I don't know what is. 🙂
Growing up I absolutely loved mac & cheese so I am so thrilled to have created a raw vegan version of such  a delicious, tasty meal.  I want to make clear that, this is raw vegan and low in fat, no oils or salt used, so it's obviously not an exact representation of mac & cheese taste-wise.  But, it is a great substitute to give you that feel when you are craving such a dish. In these winter months it's always nice to have a warm plate of food.  So, a little trick that I like to do is to let the zucchini sit in warm water for about a half an hour before using them, this way they actually warm up.  If you have a high-speed blender like a Vitamix you can blend the sauce for about two minutes on high and it will be nicely  warmed too.
On the raw food diet, there really is so much variety of foods and flavors, you never have to feel deprived.  Even better is the fact that you can have delicious food, and feel great after.  I remember when I used to eat the cooked non-vegan mac & cheese, my mouth would be loving it but minutes after my stomach was not too happy.  This raw vegan version it is gluten-free, low in fat,  and made from whole, fresh produce with no added chemicals or preservatives.
Have you ever looked on the back of a mac & cheese box? There are ingredients that you can't even pronounce, I would say that is a good indicator that you do not want that in your body! We should be fueling our bodies with only the best, fruits and vegetables that are fresh, ripe, whole, and organic as much as possible. Just think how amazing you would feel if you gave your body the highest quality nutrients every day every meal!  Just try going raw for one day and you will see the difference immediately.  It's worth it! 🙂
I hope you thoroughly enjoy it as much as we all did!
Servings 3
 Recipe:
For the pasta:
4 medium zucchini, peeled
Spiralize the zucchini using a spiralizer, a julienne peeler.  A regular peeler is fine too, but the noodles will be thicker.  Place the noodles in a large bowl.
For the cheese sauce:
1 small zucchini, peeled
1/2 cup raw cashews, soaked 6+ hours in water, drained & rinsed
(NOTE: I substitute 1/2 cup of cashew for zucchini to keep it low-fat, but if you prefer it creamier use 1 cup of cashews and skip the zucchini)
1/2 small red bell pepper, chopped into chunks
1/4 cup nutritional yeast (add more if you want a more cheezy flavor)
1/2 heaping teaspoon smoked chili chipotle ground powder
1/4 cup water
1 Tablespoon coconut amino's
1 lemon, juice of
(Optional) chili flakes
1) Blend the cashews, zucchini, and bell pepper on high until smooth and creamy.
2) Add the water in slowly to it as it blends.
3) Add the rest of the above ingredients and blend until creamy.
Pour sauce over noodles and mix in well, sprinkle on chili flakes for a lil kick.
Serve.  Savor every bite!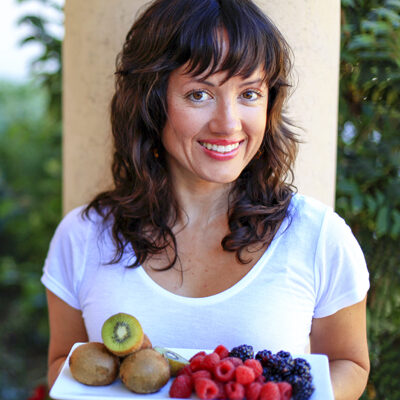 Hi, I'm Christine, thanks for stopping by! As a fibromyalgia thriver (symptom-free for over 10 years now thanks to diet and lifestyle changes), it is my passion to share the healing power of food.
As an RN and Holistic Nutrition Practitioner, it is my desire to empower you to take charge of your life.
Let's journey together to glowing health. Learn More
Your Health Transformation
Starts Here!
Sign up to get FREE healthy lifestyle tips and recipes!