Raising Awareness For Red Skin Syndrome (RSS)
Are you or someone you know suffering from chronic eczema that is getting worse? Are you using topical steroid cream for prolonged periods? If so, this article is for you.
This post is a little different from my usual ones.  I am writing it to support a cause that is close to my heart. A dear friend, fellow blogger and client of mine Heather Petersen has asked me to join her in helping her to  raise awareness for a debilitating, devastating and horrific condition that she has suffered with for almost ten years now.  It is called Red Skin Syndrome abbreviated (RSS) also known as topical steroid addiction. Despite seeing many doctors, she was misdiagnosed for years due to a lack of education and acceptance of the pharmaceutical drug reaction from long-term use of topical steroids.
In the medical world it so often goes unrecognized. Patients may see doctor after doctor desperate for some relief to their skin disorder (i.e. psoriasis, eczema, or atopic dermatitis), and in the end instead of getting help, they are prescribed the very culprit of their demise, a steroid.  In fact, that is exactly what happened to Heather, that is until she met Dr. Rapaport. He was able to identify the cause of her suffering and recognized the need to immediately stopped her treatment of all steroids.  This was a good thing but as a result of the withdrawals of the steroids this last year of her life has been completely devastating, to the point she has been bed ridden for five months and house ridden the last four months.  Some of her symptoms she has battled are extreme intense burning, itching and oozing of the skin, edema (swelling) throughout the body, insomnia, skin sloughing off excessively, extreme redness and deep cracks in her skin, and her endocrine system ceased to function properly.
She contacted me because she was so inundated with pharmaceutical and alternative treatments that she was  looking for a way to support her body while giving it a break. I encouraged her to adopt a diet that will give her body all the rich, live enzymes and nutrients it needed in supporting the healing process. So, in this past year she was able to help  support her body's ability to recover by making changes in her diet and lifestyle habits.  She  adopted a vegan plant-based diet and instantly had amazing results.  However, she was not always able to maintain this way of eating during severe times of flare ups due to the withdrawals.
Now she has healed to such a point where she feels strong enough to do what she calls "nutritional therapy" to push her to the next level of healing.  She has decided to do a raw food vegan diet for thirty days starting Thursday February 28, 2013. I urge you to join in on this journey by eating mostly raw vegan foods too!  I am very excited about this because she will be daily posting  her experience right here on my website.  I hope you all will support her in her journey to GLOWING health by following her posts.  Please feel free to post questions, comments or positive feedback for her.  You can also follow her on Facebook at Heather Rosario Petersen and her blog Eczemancipated.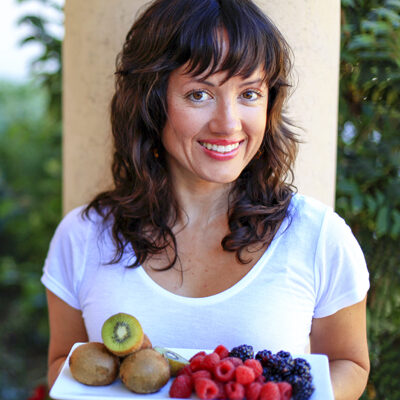 Hi, I'm Christine, thanks for stopping by! As a fibromyalgia thriver (symptom-free for over 10 years now thanks to diet and lifestyle changes), it is my passion to share the healing power of food.
As an RN and Holistic Nutrition Practitioner, it is my desire to empower you to take charge of your life.
Let's journey together to glowing health. Learn More
Your Health Transformation
Starts Here!
Sign up to get FREE healthy lifestyle tips and recipes!