Real Fruit Popsicles With No Added Sugar
This week here in the Valley (Los Angeles) it was as hot as 108 degrees! This is weather we normally have in July, kinda crazy.  So I was desperate to find something to cool down with. I definitely was enjoying a lot of watermelon but I was craving fruit popsicles.  When I was young I used to love the popsicles called 'Big Stick' they were made with cherry and pineapple flavoring.  So I was craving something like that.  Only problem is they are just that…flavorings, with added coloring, chemicals, lots of refined sugar and who knows what else.  That is not kid friendly.  For that matter it's not health friendly period.  I had just picked up a flat of fresh local strawberries from the farmers' market that were deep red in color, juicy and sweet as candy and I had one juicy ripe pineapple ready, so I decided to create my own big stick! A kid friendly one.  It just kills me to see kids popping candy and other junk in their mouth like nothing.  These are growing little bodies that need as much nourishment as possible.  Sugar weakens the immune system and sets them up in the future for other health problems.
With simple fun recipes like this with no added sugar there is no reason to let them eat junk.  Fruit is nature's candy and if we get our kids palate used to the natural sweetness of fruit they won't crave the refined, processed overly sweet junk foods.  They will crave fruit.  These fruit popsicles are so easy to make and you can make so many varieties with them. Simply change up the fruit and the juice used with your favorite fruit flavors.
I got these BPA-free popsicle molds on Amazon but I'm sure you can also find them at a local home goods stores like Bed Beth & Beyond or Target if you have those near by.  BPA is a chemical found in plastic which acts similar to estrogen and other hormones in the body and is very hazardous to our health.  Babies and young children are especially sensitive to its effects.
I shared one with my dad after he had a long work day outdoors in the scorching sun, he loved it.  He said it was the perfect way to cool down after being out in the sun all day.  These would even be great to share at a kids party or to bring in a cooler when you all go to the beach.  When you are prepared with healthy yummy snacks then you will be less likely to find and eat junk food around you.   So, I hope you enjoy these fruit popsicles with your friends and family this summer and keep cool the healthy way!
Servings 6 popsicles
Recipe:
3-4 cups fresh pineapple chunks (enough to make approximately 2 cups of juice)
1 -2 cups of fresh strawberries, sliced and green tops removed
Equipment needed:
6 bpa-free popsicle molds
juicer
Put the pineapple chunks through the juicer.  Optional, filter the juice to sift out the extra pulp. Next, pour an even amount into each popsicle mold up to no higher than two inches from the top, to keep room for the strawberries.  Add the desired amount of sliced strawberries to each one.  Note: the more strawberries you add the less sweet it will be, since strawberries can tend to be on the acidic side. So if you prefer sweet then I recommend less strawberries. Add the stick with the cover, and put in the freezer for at least an hour or until frozen.
Enjoy these yummy fruit popsicles this summer at the beach, by the pool side or just in the shade keeping cool!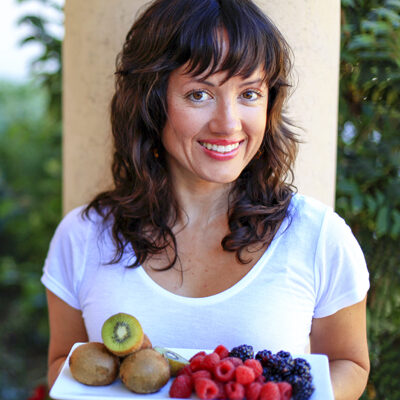 Hi, I'm Christine, thanks for stopping by! As a fibromyalgia thriver (symptom-free for over 10 years now thanks to diet and lifestyle changes), it is my passion to share the healing power of food.
As an RN and Holistic Nutrition Practitioner, it is my desire to empower you to take charge of your life.
Let's journey together to glowing health. Learn More
Your Health Transformation
Starts Here!
Sign up to get FREE healthy lifestyle tips and recipes!