I don't know about you but for me it is like pulling teeth getting my husband to eat healthier, especially when it comes to eating kale. So, I am always looking for creative ways to prepare it in a way that he will like.  I add it to fruit smoothies and make kale salad with savory dressings, so when I find a recipe that he actually enjoys then I know it is definitely a worth sharing! 🙂
This is one of the few kale recipes that he just ate up and didn't even question what's inside, and even asked for more! So, I am so happy to share this recipe with you in hopes that it will be another great way to feed your family more kale without the fight, haha!  It is so easy, taking less than ten minutes to prepare and yet it makes a beautiful presentation as an appetizer for a party or as a side dish to any meal.  It is definitely a dish that anyone can enjoy whether raw vegan or not.
These kale stuffed avocados are an oil-free, salt-free and of course raw vegan recipe and yet still so delicious. The natural flavors of fresh ripe tomatoes, bell pepper, fresh herbs and creamy ripe avocados need nothing more added to them.  The simplicity of the flavors of natural whole foods is a pleasure in itself.
Recipe:
2 avocados, halved & seed removed
2 cups dinosaur kale, stems removed
Several cherry tomatoes ( at least 10), halved
1/2 small lemon, juice of
1 yellow bell pepper, chopped
1 clove garlic, crushed
1 small Serrano pepper, seeds removed and chopped
2 shakes cayenne pepper
1/4 cup cilantro, chopped
1) Chiffonade kale (basically roll it up and slice thin).  Place in a large bowl and massage the kale with  lemon juice and set aside.
So easy in four simple steps you have healthy creative addition to any meal, that all will enjoy!
2) For each avocado half, cut out half of the avocado meat  add the chunks to the kale salad. There should be enough space for a large scoop of kale salad can be added on top.
3) Mix all the rest of the above ingredients to the salad and mix well.
4) Scoop the salad into each avocado.
Posted in Recipes and tagged with "crab cakes", appetizer, beautiful presentation, bell pepper, chiffonade, creamy ripe avocado, creative, dinosaur kale, easy, enjoys, flavors, fresh herbs, fruit smoothies, healthy, how to, how to get family to eat more kale, kale recipes, kale salad, kale stuffed avocados, make, massage kale salad, meal, natural flavors, oil free, party, pleasure, prepare, Raw, recipe, ripe tomatoes, salad, salt free, savory dressings, side dish, simplicity, vegan, whole foods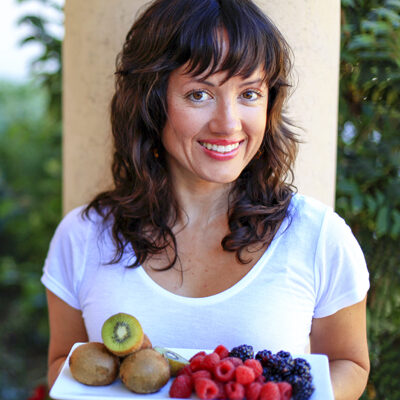 Hi, I'm Christine, thanks for stopping by! As a fibromyalgia thriver (symptom-free for over 10 years now thanks to diet and lifestyle changes), it is my passion to share the healing power of food.
As an RN and Holistic Nutrition Practitioner, it is my desire to empower you to take charge of your life.
Let's journey together to glowing health. Learn More
Your Health Transformation
Starts Here!
Sign up to get FREE healthy lifestyle tips and recipes!