Zesty Massaged Kale Avocado Salad
Kale is a powerhouse of nutrients.  It is rich in vitamin A, vitamin C and vitamin K.  It is an excellent source of calcium, magnesium and potassium along with two powerful antioxidants: carotenoids and flavonoids.  Antioxidants protect our cells  from free radicals caused by oxidative stress, but these two in particular are specifically  beneficial for fighting cancer.  Kale is also a great source of fiber which is so important in lowering cholesterol levels and reducing the risk of heart disease.
Knowing this, you can see that kale should be included regularly in your diet, along with other leafy green vegetables of course.  I often throw kale into a fruit smoothie for breakfast, but I also love my kale salads.  There are so many versatile ways to make them but this is my favorite, because it's like a flavor fest in my mouth every time I eat it!
So here you go:
Serves: 1 large serving or two medium servings
Recipe:
1 large bunch of curly kale, chopped into bite size pieces
2 pink grapefruit, peeled and cut into bite size chunks
To make it look more attractive, I usually cut the sides and tops off instead of peeling it. Then just cut into slices then bite size chunks.
1 avocado, seed removed
1/4 red onion, sliced lengthwise
Dressing:
2 medjool dates, pitted
1 Navel orange, juice of
1/2 lime, juice of
1 thumb size chunk of ginger peeled, zest of
2-3 shakes of cayenne pepper (depending on how spicy you like it)
Directions: Put the chopped kale into a large bowl with 1/2 avocado. Massage the avocado with your hands into the kale for a few minutes until it becomes soft, (this takes the bitterness out of it).  Cut up into small chunks the rest of the avocado and add into the salad along with grapefruit chunks and red onions.
To make the dressing:   Blend in a blender all the able ingredients until smooth. Then pour over salad mixing in well..
Normally, once I slice, dice or blend I always try to eat my food right away because I don't want to lose the nutrients, but this salad is one exception.  If you let it sit for several minutes and just let the flavors of the dressing sink in it just gets even more savory.  Either way it makes for a great meal!
Enjoy!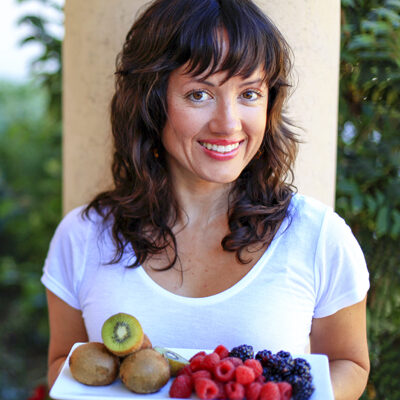 Hi, I'm Christine, thanks for stopping by! As a fibromyalgia thriver (symptom-free for over 10 years now thanks to diet and lifestyle changes), it is my passion to share the healing power of food.
As an RN and Holistic Nutrition Practitioner, it is my desire to empower you to take charge of your life.
Let's journey together to glowing health. Learn More
Your Health Transformation
Starts Here!
Sign up to get FREE healthy lifestyle tips and recipes!