Fennel-Orange Salad Recipe
Every day I try to include some kind of salad in my diet.  I eat a ton of fruit throughout the day, but it is very important to eat enough green leafy vegetables too.  Usually I like to make big green salads filled with different veggies or fruit.  But, sometimes I like to try something a little different.
This salad is  based off a Sicilian recipe, and it's such a nice mix with the oranges together with the fennel and the cranberries, it gives it a sweet and sour taste that I just love! In case you have never tried fennel it has a sweet, mild anise flavor to it.  Fennel is very good for digestion whether in teas,  the seeds, or the vegetable itself.  This recipe is quick and easy but tastes fantastic.
Serves: 2 small servings or 1 large serving
Recipe:
1 fennel large bulb, sliced in pieces lengthwise
2 oranges peeled and cut into large chunks
1 handful fresh parsley chopped (or you can use mint instead)
1 handful dried unsulfured cranberries
juice from 1 lemon (or if you prefer sweet you can use an orange)
1 Tbsp coconut sugar
Directions:
Clean and slice fennel in lengthwise pieces (to see how to prep fennel click here).  Mix in chunks of orange, and chopped parsley.  Top with dried cranberries.  Mix in a small bowl juice from 1 lemon with a tablespoon of raw date sugar and use as dressing over the salad.  Optional chill in the fridge 20 minutes.
Simple as that!  Boun Appetito!
Do you have any favorite fennel recipes?
Posted in Recipes and tagged with anise, diet, digestion, dried cranberries, fennel, fennel bulb, flavor, fruit, greeen leafy vegetables, green salads, lemon, light, mild, mint, orange, parsley, raw date sugar, raw food, recipes, refreshing, salads, seeds, Sicilian, simple fantastic, sweet, teas, unsulfured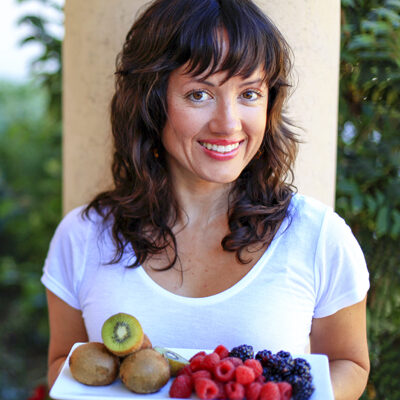 Hi, I'm Christine, thanks for stopping by! As a fibromyalgia thriver (symptom-free for over 10 years now thanks to diet and lifestyle changes), it is my passion to share the healing power of food.
As an RN and Holistic Nutrition Practitioner, it is my desire to empower you to take charge of your life.
Let's journey together to glowing health. Learn More
Your Health Transformation
Starts Here!
Sign up to get FREE healthy lifestyle tips and recipes!