How to Prepare Raw Food Meals/Snacks with a Busy Schedule
One of the first questions I am asked when I talk to someone about starting a raw food diet is; But how will I do it when I am at work or on the run?  That is a very valid question.  Coming from the Standard American Diet (SAD), there is very little if any preparation needed.  If you are in a rush you microwave something, go to a vending machine near your work desk or simply pick up fast food.  Preparation is a major key to success in transitioning into the raw food lifestyle, then eventually it becomes second nature and just a way of life.  Simply planning what you want to eat during the week for meals and for snacks will be a great help.  You may want to start looking at raw recipe books or perusing the interenet for recipes, to get an idea and then make a list according to the meals you want and all their ingredients. Snacks are essential to have with you at all times.  I know for me when I was working in a hospital, all the junk food that was always in our lunch room was so tempting! But, I found that if I had something with me already that I enjoyed eating I would eat that, feel satisfied and not be tempted by the junk food.
Here is a list of some of the simple snacks you can always have on hand:
1) Trail mix with nuts, seeds, dried fruit, etc.
2) Fresh fruit whole or chopped up in a fruit salad
3) Kale chips
4) Smoothie or juices: you can prepare it in the morning and bring it in a glass jar or stainless steel bottle with you to have for later.
5) Homemade snacks: you can check out the raw snacks at the store to get ideas and then be creative at home.  My favorites are making little truffles.  You can add whatever kind of nuts, seeds, or dried fruit to your liking, cacao powder, carob or coconut and they are so good!
On the SAD, I would do grocery shopping maybe once every ten days.  Now, because I realize the importance of fresh food, I go maybe every 3 to four days.  One important thing to remember is that the fresher the food the tastier and more nutritious it is.  The more nutritious it is the more it fills you up so you feel satisfied.  That is why on the SAD you may find yourself always having cravings or feeling hungry.  There is so little nutrients in that diet that our body is left feeling hungry even after a big meal.
That being said, most people are not always  able to prepare food and eat it right away.  If that is you , don't be discouraged! It is still better to prepare something in the morning, or the night before to have later or the next day as leftovers than to not do it at all and go back to the fast food routine.  So, as much as possible try to make your meals fresh but when you can't, do the best you can!
As for meals, when just starting out I recommend keeping them simple.  For breakfast or lunch a smoothie packed with different fruits or vegetables may suffice.  I usually have a smoothie everyday for one of my meals maybe more.  Also, think of raw versions of the food you already love, such as: guacamole, salsa, pesto, your favorite salad or soup and experiment with those.  Keeping it simple increases your chances of success on this lifestyle plan.
Remember, this new lifestyle is not to be burdensome. It is something that should be improving your life, making it simpler but more enjoyable.  What's not to love about that? You will watch your body and mind transform into a level of health and positivity that you may have never felt before.  However,  it must be something fun for you in order to succeed.  This way of eating is meant to be fun, simple, delicious, healthy and should make you feel happy and alive!
Wishing you GLOWING health!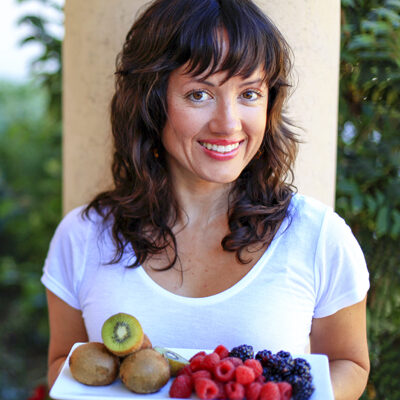 Hi, I'm Christine, thanks for stopping by! As a fibromyalgia thriver (symptom-free for over 10 years now thanks to diet and lifestyle changes), it is my passion to share the healing power of food.
As an RN and Holistic Nutrition Practitioner, it is my desire to empower you to take charge of your life.
Let's journey together to glowing health. Learn More
Your Health Transformation
Starts Here!
Sign up to get FREE healthy lifestyle tips and recipes!