Heart Healthy Pomegranate Smoothie
Every winter I look forward to all the wonderful winter fruit to eat.  One of my current favorites is the pomegranate. Not only do I love their tangy juice but they are so rich in health benefits.  Just by looking at the deep, vibrant color gives you an indication of how nutrient dense it is.  Pomegranates have very potent antioxidant properties, higher than most other fruits.
 They are a good source of vitamin C and vitamin B and many other minerals that help reduce or prevent certain diseases, such as arthritis, and many types of cancer.  Pomegranates are very important for heart health.  Studies have shown that the potent antioxidant compounds found in pomegranates have shown to reduce platelet aggregation.  It even helps lower blood pressure, both of these factors help to lower the risk of heart attack and stroke. Pomegranates may even help protect against depression and osteoporosis.  These are just a few of the many fantastic health benefits of the ruby red fruit.  You definitely want to make sure you are including pomegranates in your diet!
If you have never tasted this fabulous fruit, you must go out and try this recipe! These amazing little seeds are just bursting with juicy sweet yet tart flavor, your taste buds will be delighted!  Another great thing about pomegranates is that they are  versatile.  You can juice them, use them in green salads or fruit salads, in smoothies, or eat them whole and they just bring such a delectable flavor to the food.
Serves 1
Recipe:
1 cup fresh pomegranate juice (seeds of 1 pomegranate)
2 oranges peeled
1 cup frozen mangoes
several fresh mint leaves
1 cup fresh coconut milk
Directions: Note: If you don't have a juicer you can blend on high the pomegranate seeds, then strain with a strainer. Once juiced, add the rest of the ingredients into a blender and blend on high until creamy. Pour into a glass and enjoy immediately!
What's your favorite way to enjoy pomegranates?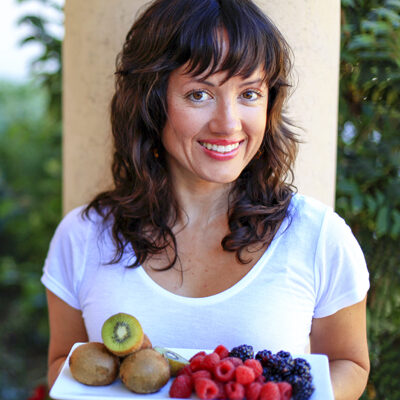 Hi, I'm Christine, thanks for stopping by! As a fibromyalgia thriver (symptom-free for over 10 years now thanks to diet and lifestyle changes), it is my passion to share the healing power of food.
As an RN and Holistic Nutrition Practitioner, it is my desire to empower you to take charge of your life.
Let's journey together to glowing health. Learn More
Your Health Transformation
Starts Here!
Sign up to get FREE healthy lifestyle tips and recipes!