For dinner I usually have a large salad.  So I am always coming up with creative ways to make salads enjoyable and different so that I don't get tired of them or feel like I am eating the same thing all the time.  This quinoa salad happens to be one of my favorites.  Adding the quinoa to it gives it a nice texture, and adds nutty flavor to the salad.  It also makes it more filling and hearty. This particular mix of vegetables is my favorite because it gives it a mediterranean flavor, but you can use any mix you like. It is also super easy to pack into a container and bring as a lunch with you to work or school.  The more greens you add with it the better!
When the quinoa appears soft and there is a visible white ring around the grain it is ready.
I like to make a large batch of this to have some not only for dinner but then to pack for my lunch during the week.  It stores so well in the fridge for a few days, and doesn't get soggy like regular salads.  Normally I prefer to consume my vegetables or salads as soon as they are made, because they lose nutrients the longer they are exposed to the air.  But sometimes you gotta do what you gotta do.  So I might lose some of the nutrients making this in advance and bringing it to work the next day, but it still is way better than running off to the local fast-food place next door, right?  On the raw food diet you really have to be reasonable.  It is all about keeping it practical and simple to be able to keep up this diet even with the busiest of schedules.
If you don't feel like having the quinoa with this, the vegetable salad makes for a wonderful meal all by itself.  Just add it to a large bed of greens like spinach and it's delicious!  This is one of those meals that you can make in a large quantity and even if your family is eating foods that you do not, this can easily be one of their side dishes while it is your main dish.  This way you are not cooking double.
Serves: 4
Recipe:
1 cup Quinoa
2 cups vegetable broth (or water)
2 sprigs of Thyme
1/3 cup red onion, minced
1 clove garlic, minced
1/3 cup green onion, diced
1/2 cup parsley, diced
1/3 cup basil leaves, diced
1 large red bell pepper, diced
1 large green bell pepper, diced
3 celery stalks, diced
2 persian cucumbers (medium size), sliced
3/4 cup of black olives, pitted ( I usually get my olives from the farmers' market where they are organic and only cured in olive oil, no other chemicals)
8 cups spinach (or any greens)
2 Tbsp Extra Virgin Olive Oil
1 small lemon, juice of
To make Quinoa:
Place the quinoa, vegetable broth, onion, garlic, and thyme in a saucepan and bring to a boil.  Reduce to simmer, cover and cook for about 12-15 minutes or until there is no more water.  Then turn off the flame and leave covered for another ten minutes, until nice and fluffy.
To make the vegetable salad:
Mix in a large bowl the parsley, cucumber, green onion, celery, bell peppers, basil olives, juice of lemon and oil.  Toss to combine well.
When the quinoa is cooked and has cooled down, mix the quinoa in with the vegetable salad.  Scoop onto a bed of spinach and serve.
A few facts about quinoa:
– Quinoa does not contain gluten, so it is a wonderful gluten-free, wheat-free substitute and is also easier to digest.
– Quinoa is a complete protein, meaning it provides all the essential amino acids.  So, it is a great source of protein.
– It is packed with vitamins and minerals such as thiamine, folate, B6, riboflavin, iron and manganese.
Posted in Recipes and tagged with amino acids, B6, basil, black olives, bring to, busiest, celery, consume, cooking, delicious, density, diet, dinner, double, during the week, easily, eating, exposed, family, fast food, flavor, Folate, foods, for lunch, fridge, gluten, gluten free, green bell pepper, green onion, greens, in advance, ingredients, iron, lemon juice, local, longer, lose, lunch, main dish, maintain, making, manganese, mediterranean, minerals, nutrients, nutty flavor, pack, parsely, persian cucmber, practical, protein, quantity, quinoa, raw food diet, reasonable, red bell pepper, red onion, Riboflavin, salad, salads, schedule, side dish, simple, soggy, spinach, stores, testure, Thiamin, thyme, to air, vegetable, vegetable salad, vegetables, vitamins, well, wheat free, work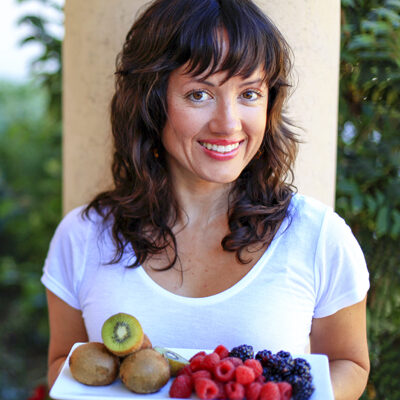 Hi, I'm Christine, thanks for stopping by! As a fibromyalgia thriver (symptom-free for over 10 years now thanks to diet and lifestyle changes), it is my passion to share the healing power of food.
As an RN and Holistic Nutrition Practitioner, it is my desire to empower you to take charge of your life.
Let's journey together to glowing health. Learn More
Your Health Transformation
Starts Here!
Sign up to get FREE healthy lifestyle tips and recipes!