Finding Health On a Raw Food Diet: A Couple's Testimonial
Our journey towards going raw began a few years ago with eating more organic fruits and vegetables. We appreciated the improved taste and nutritional value of these organic items. Before we knew it most of our diet was organic.
Sadly, however, this was not enough to improve our health to where we wanted it to be as we were still eating out one to two times a week. We still felt sluggish in the morning and I was still dealing with aches, pains and other undesirable smells and body odors which had stemmed from exposure to mold a few years back. Lara suffered throughout the years with allergies, had back pain, and found it difficult to concentrate. That's when I brought up her friend Christine.  She has been a close family friend for years and I remembered her saying she was a holistic nutrition practitioner. We made an appointment with her and she laid out our options without any pressure. She asked how we felt about trying a raw diet of fruits and vegetables. Lara was more willing than I was and much more eager to give it a try. My only contention was that it would have to have flavor. When it comes to food I need it to have flavor in order for me to enjoy it. And if I don't enjoy it, I don't eat it for long.
We knew we needed to dramatically change our diet to feel better and we were determined to give it a try. Two weeks later we met up with Christine again. She was surprised to hear that we had been about 80% raw for two weeks and she could definitely see the results already. I lost about 10 pounds and Lara lost about 5 pounds in just the first two weeks. Our energy had improved as well. Based on the results we then made a commitment to ourselves to stick to this diet for three months.
During the daytime we managed our cravings for cooked food pretty well by carefully preparing our salads with homemade sauces which included avocado and nut and seed mixtures. The sauces were a big help to me in particular as I was able to have the flavor I wanted. In the process I learned to eat and enjoy various other greens that I would have never tried before, though I still struggle with kale to this day, but, nobody is perfect. Our breakfasts included fruit smoothies or whole fruit. We also ate whole fruit throughout the day to make sure we had enough calories and other nutrients. Christine has helped us see the proper balance of fruits and vegetables and has even shown us how to have protein without animal products.
We strive to be 100% raw but are not always able to maintain that as we'd like. We are learning to identify our stress triggers and to not use food as a crutch. We have also been correcting bad sleep habits and are no longer up until 2 am. Our friends and family have observed our journey and commented along the way.
At first most were skeptical about our dramatic diet changes but in a short time they saw that this healthy lifestyle was making us happy. Our results speak for themselves. I lost 30 pounds of stubborn weight in the first two months and Lara lost 20 pounds. We've dusted off the workout equipment and enjoy weight training, walks, and hikes with friends. Our aches and pains and other inconveniences are now minimal to non-existent. Our energy and strength has improved tremendously and we both feel more confident.
We are happy that we made the decision to contact Christine and are very thankful to her for her knowledge and support. We are glad we are sticking with this new diet and are happy to share our new knowledge and recipes with others.
Victor & Lara
Posted in Wellness and tagged with aches, allergies, avocado, back aches, balance, cooked food, cooked meal, cravings, diet, difficulty concentrating, energy, fruit smoothies, fruits, goal, going raw, health, improve health, improved, journey to health, lost weight, nuts, pains, protein, Raw diet, raw food diet, raw foods, recipes, results, salads, seeds, sluggish, strength, vegetables, whole fruit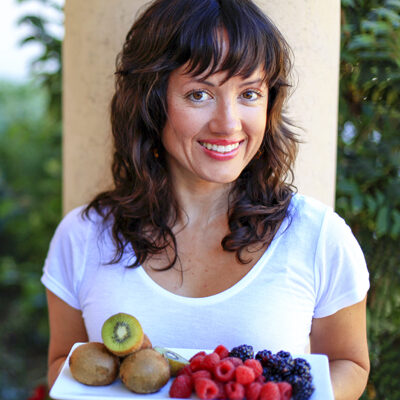 Hi, I'm Christine, thanks for stopping by! As a fibromyalgia thriver (symptom-free for over 10 years now thanks to diet and lifestyle changes), it is my passion to share the healing power of food.
As an RN and Holistic Nutrition Practitioner, it is my desire to empower you to take charge of your life.
Let's journey together to glowing health. Learn More
Your Health Transformation
Starts Here!
Sign up to get FREE healthy lifestyle tips and recipes!