How to Maintain A Raw Food Diet While Traveling
"How do you maintain a raw food diet while traveling?" This is a commonly asked question.  First I want to clarify that while I am speaking specifically about raw foods this  also applies to eating healthy in general.  In a world where we are surrounded by fast food, junk food and unhealthy choices, eating healthy really takes planning ahead.  You cannot count on restaurants or airports to always carry healthy choices. So I wanted to share with you the ten ways to be prepared while traveling that I found to be super helpful, including what I bring with me on the road.
1)   Always have a few pieces of whole fresh fruit with you.  I love bringing bananas or apples because they are easy to carry in my purse and aren't messy.  On a long trip avocados are great because they are filling.
2)   Bring nuts, trail mix and/or dried fruit.  Even if I am going on short trip I always have handy some snack in  case of emergency to tide me over.  I make trail mix, filling it up with shredded coconut, mixed nuts and seeds, dates and dried fruit.  If you find a healthy salad to eat along the way you can top it with the trail mix too.
3)   Have on hand raw energy bars or varieties of raw truffles.  Sometimes when on long trips it can be boring and you look to snack on something. The truffles or bars are perfect for that.
4)   Bring a bottle filled with fresh made juice or a filling smoothie.  When I bring a smoothie with me I use fruit that will keep me filled like several bananas with mangoes, coconut or dates.  It keeps me filled for at least a few hours. Sometimes whether in airports or on the road you can find places that make smoothies or juice, even if not organic they can be a great option.
5)   Always carry purified water with you.  Many times when we are slightly dehydrated we feel hungry instead of thirsty.  So drink lots of water to reduce that sensation.
6)   Eat  before leaving on your trip.  Whether going on a road trip or taking a plane I always try to eat before leaving so that I have a full stomach to carry me through for several hours.
7)   Pack some raw hummus with a variety of cut up veggies.
8)   Pack a salad in a container and have a lemon or orange wedge for dressing packed aside.
9)   Have a mono meal. When I want to keep it super simple I have what are called mono meals.  It is eating one type of fruit until you are full.  For example, I love mangoes so I may bring 5 or 6 of them and make a meal of them.  This is nice if you don't want to be bothered with containers or preparing something in advance.
10) Make sure to never let yourself get so hungry that you don't think straight and you grab for anything out of desperation.
To maintain a raw food diet while traveling just takes a few extra minutes of planning in advance.  But it is well worth the effort.  When you eat to live not live to eat you are fueling your body with vital nutrients, vitamins and minerals.  So, keep it simple, raw and tasty too but don't let it become a burden where everything starts revolving around what you are going to eat. The beauty of the raw food diet is the simplicity of it.  Traveling can be stressful enough without having to worry where you can find something to eat.
Enjoy your travels and hopefully these ten tips will keep you fueled for your journey and keep you GLOWING with health! 🙂
Do you have any helpful tips you would like to share? I would love to hear from you!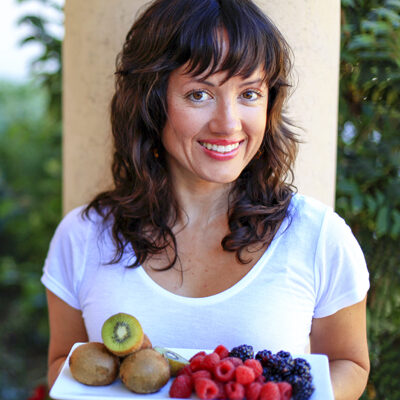 Hi, I'm Christine, thanks for stopping by! As a fibromyalgia thriver (symptom-free for over 10 years now thanks to diet and lifestyle changes), it is my passion to share the healing power of food.
As an RN and Holistic Nutrition Practitioner, it is my desire to empower you to take charge of your life.
Let's journey together to glowing health. Learn More
Your Health Transformation
Starts Here!
Sign up to get FREE healthy lifestyle tips and recipes!