August Raw Food Challenge
August 1st we will be hosting a raw food challenge so I wanted to share all the details here for you and answer the common questions I've been asked. If you're reading this you're probably curious about it or are thinking about doing it, so welcome! I really hope you join us!
This challenge is not new to the just glowing with health community. Myself along with my good friend Heather who, if you've followed my blog in its early stages you may remember her as HP. We would regularly host raw food challenges to round up support for her as she was detoxing and healing from Red Skin Syndrome caused by Topical Steroid Addiction.
If you're not sure what that is here click on this link where she explains more. She was a guest blogger here for many years as we raised awareness all around Eczema caused by topical steroids. If you're looking for more info on those topics feel free to peruse my blog as she has written many posts about it, and her healing journey.
DETAILS OF OUR RAW FOOD CHALLENGE
This year myself and Heather are hosting it together as she has come full circle in her healing journey and we decided to come together to use this summer to REFRESH, REPLENISH and REJUVENATE with raw foods. I have to say it's exciting to be coming back together in doing this especially with her in a better state of health!
When does the challenge start? August first and finishes August 31st
Do I have to be fully raw? No, our goal is to introduce as many people to the raw food lifestyle to get a taste of it to see just how good it feels. This is not something rigid or forced. It's meant to be enjoyable and fun. YOU choose how much you will commit to for the month, whether that's one meal a day rather that's making sure to have one smoothie a day or adding in a salad with every meal totally your call.
Will you provide recipes? HP will be regularly guest blogging here sharing the recipes to what she's eating and my blog is full of raw food inso and recipes as well to pull from. Also make sure to follow me on instagram at @justglowingwithhealth to keep up with what I'm eating daily on my stories for inso. If you type in 'raw vegan' or raw food diet' in the search button here on my blog I have literally pages of blogposts of recipes and everything you need to know about the raw food lifestyle.
How do you start the raw food diet? The simplest way is to simply replace breakfast with a delicious sweet fruit smoothie or green smoothie. Also replacing snacks with fresh fruit and veggies. Make sure to follow me on Instagram as well, for my daily stories and posts where I'll be sharing tips and ideas to help you have the best experience. Here's a post I did sharing my tips on how to transition to the raw food diet successfully, make sure to check it out!
Can I use the Ultimate Lifestyle Transformation program while doing this?
Yes! The ULT actually simplifies the raw food diet providing two raw superfood meals a day for you. All you have to think about is the third meal and any snacks you want. This program will save you a lot of time with the meal prep and is very convenient. This is actually the method I will be using to keep it super, simple, easy and convenient!
How do I shop on the raw food diet?
Check out these two posts to give you some ideas:
How to stock a raw food pantry by HP
How to stock a raw food kitchen that I wrote
How do I sign up for newsletters for the month?
So glad you asked! I will be doing newsletters once a week just to keep you updated with recipes and to check in for support on how you're doing. Sign up here to receive them.
Can I have dessert on this challenge?
Absolutely! This is not about deprivation by any means, there are so many delicious raw vegan, gluten free, and totally guilt-free desserts to choose from. I have tons here on my blog just make sure to type in raw dessert and you'll see a plethora of deliciousness to choose from, you won't be disappointed!
I hope this answers your questions, if you have a question that's not answered here leave it below in the comments and I'll be sure to answer it there! Also let us know below if you'll be joining us in this challenge and what your commitment will be to it ie one meal a day, two meals a day, adding in fruit and veggies for snacks, etc so we can cheer you on!
PS Don't forget to tag us on Instagram at @justlgowingwithhealth or #justglowingwithhealth so we can see what you're eating!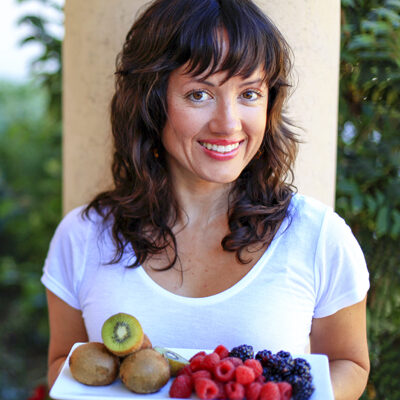 Hi, I'm Christine, thanks for stopping by! As a fibromyalgia thriver (symptom-free for over 10 years now thanks to diet and lifestyle changes), it is my passion to share the healing power of food.
As an RN and Holistic Nutrition Practitioner, it is my desire to empower you to take charge of your life.
Let's journey together to glowing health. Learn More
Your Health Transformation
Starts Here!
Sign up to get FREE healthy lifestyle tips and recipes!