Pumpkin Spice Granola (Oil-Free)
I love making homemade granola. One because it's so easy and delicious, and two it's so much cheaper than buying it in the store! If you're looking for a delicious, satisfying, crunchy snack this pumpkin granola will totally hit the spot!
I am a big granola lover, it's all about the crunch. When I have a munch attack I need the hardcore crunch factor to be satisfied. And the beauty is you really can't go wrong with granola, it's so versatile each time you make it you can add new flavours.
This winter I was given an heirloom pumpkin from a friends garden in Calabria (the southern tip of Italy). I made the pumpkin and set aside the seeds to dry, the good gardener that I am (winky face). I planted them and before I knew it tons of seedlings began to sprout. Fast forward to now and I have a TON of pumpkin, cause boy do those plants produce!
I've gifted them to neighbours, friends and family. I've cooked every pumpkin recipe under the sun, including this one trying to use them up. So just letting you know now, you may see a lotta pumpkin recipes coming, lol.
This pumpkin spice granola is:
Crunchy
Satisfying
Oil-free
Refined sugar free
Deliciously spiced
Slightly sweet
This pumpkin spice granola is healthy, delicious and totally customisable. Feel free to throw in pumpkin seeds or sliced almonds, shredded coconut, once the granola is baked. Or add other spices like cinnamon. You can customise this to your preferences.
It makes for a great breakfast as well. I love it in the morning with cold oat milk or as a crunchy mix over coconut yogurt. This granola also makes for a great snack for on the run. It's filled with protein and healthy fats so it's filling and satisfying and absolutely no mess. Throw some in a recyclable zip lock bag and take it to go. I'll make a batch when I'm traveling to take with me.
Will last up to a month stored in an airtight container.
RECIPE:
2/3 cup pumpkin puree*(see note)
3 cups oats
1/2 cup maple syrup
3 tablespoons brown sugar
1/3 cup almond butter
1 teaspoon pumpkin spice
1/2 teaspoon nutmeg
1.5 cups pecans
2/3 cups dried unsulphured cranberries
Directions
1. Preheat the oven to 340 degrees F
2. Mix the dry ingredients together in a large bowl (oats, brown sugar, spices, pecans).
3. In a small bowl whisk the almond butter, pumpkin puree and maple syrup together. Then pour over the dry ingredients and mix together well with a spatula.
4. Place parchment paper on a large baking tray and spread the mixture evenly onto it.
5. Bake for 25 minutes. Remove tray from the oven and stir. Bake for an additional 20-25 minutes or until granola is golden and crunchy. Remove from the oven and add in the cranberries and any other additions as coconut shreds, pumpkin seeds, etc. Let cool completely, then store in an airtight container.
NOTE: I made pumpkin puree steaming the pumpkin until fork tender then blending it in a blender (or food processor). You can also substitute it with sweet potato as well. If using pumpkin puree from a can use 1/2 cup, as it's much thicker.
If you make this granola, let us know in the comments below or share a photo on Instagram and tag @justglowingwithealth and hashtag it with #justglowingwithhealth. I love seeing what you're baking!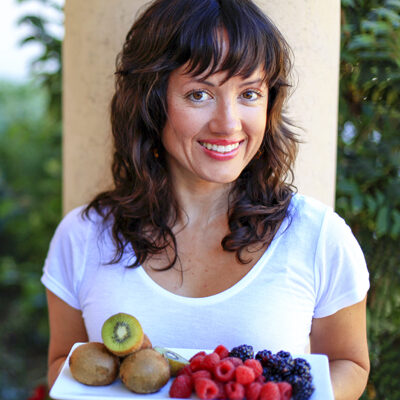 Hi, I'm Christine, thanks for stopping by! As a fibromyalgia thriver (symptom-free for over 10 years now thanks to diet and lifestyle changes), it is my passion to share the healing power of food.
As an RN and Holistic Nutrition Practitioner, it is my desire to empower you to take charge of your life.
Let's journey together to glowing health. Learn More
Your Health Transformation
Starts Here!
Sign up to get FREE healthy lifestyle tips and recipes!