How to Stock a Raw Food Kitchen For Success
As you're transitioning into raw foods, it can seem a bit overwhelming. But, learning how to keep a stocked kitchen of essential items will be of great help.  So, I thought I'd share with you what for me are necessary items that I always keep on hand.
The basic raw plant foods are fruit, vegetables, nuts, seeds and sprouts. It's best to choose fresh foods as much as possible, however, there are some foods that can be stored in the freezer for several months to give you greater variety throughout the year.  When you freeze foods some of the nutrients are lost, but if your diet consists of mostly fresh produce, the small percentage you may lose from freezing is really not so tragic.
Just a little tip: when you go to the grocery market the food you will be looking for is usually against the outer part of the market and against the walls. Another words, all the packaged, boxed process food in the middle aisles are not where you'll be looking for food. The produce section will be your new best friend! So, become familiar with it, familiarize yourself with new types of greens, lettuce, or fruit that you've never tried and don't be afraid to experiment. Variety is the spice of life!
So here's a list of my list of kitchen essentials:
Fruits: This is my number one staple in my kitchen. Always have a variety of fresh, organic, in season fruits on hand.  You can never have enough fruit around. If for some reason you have more than you're going to eat, and you're worried about it going bad just freeze it. I like to freeze a variety of fruit so that over the months so that even when it is no longer in season I have some on hand.  My fruit staples are bananas and whatever fruit is in season. They're cheap and easy to find.  Lemons and limes are essential for adding great flavor to salads, dressings and many dishes.
Vegetables: Like fruit, always have a variety of fresh, organic veggies around.  My absolute staples are celery, lettuce, green leafy vegetables, cucumbers, bell peppers and zucchini then the rest is depending what's in season.
Nuts: While nuts make up a very small percentage of my diet I do like to keep a wide variety on hand.  There are so many to choose from: cashews, walnuts, almonds, pecans, brazil nuts, hazelnuts, etc.. The important thing to remember is that they should be raw. Nuts and seeds can be kept frozen for up to six months.  
Seeds: I like to also stock up on a variety of seeds.  They're great to add in salads, in trail mixes and even make seed milks in alternative to nut milks. They're a great source of minerals. They also can be frozen.
Nut butters: I always have a jar fresh nut butter on hand.  They're great to add into a smoothie for added creaminess, dessert recipes or even salad dressings. They also come in handy to have around when you want a quick snack like spread on celery or my favorite on apples.  YUM!
Dried fruit: Sun-dried fruit is definitely a must to have around.  Make sure when you buy it that the label says sun-dried so you know it really is raw. I find the best quality at my local farmers' market. Make sure that there are no sulfur or chemicals used for color or preservation.  The only ingredient should be the fruit. They can be kept in tightly closed containers and in the fridge if not eaten right away.  My personal staples are tomatoes, cranberries, raisins, mangoes, and figs.
Herbs/Spices: I always try to have several types of fresh herbs and seasonings on hand.  In fact I started growing and herb garden just to have them on hand, it's so much easier. I use mint, parsley, cilantro, rosemary, sage, thyme, green onion and basil a lot.  Fresh herbs make a food come to life!
As for spices I have a cabinet full of a wide variety. I love adding spices to my dishes they can make all the difference in the world and help you avoid using salt. Here are my main spice staples: ginger, turmeric, cinnamon, smoked paprika, chili chipotle powder, curry, onion powder, fajita seasoning, cayenne, garlic powder, and cardamom, (these are not raw but they're organic with no salt added and only pure ingredients). So just see what works with your taste.
Sweeteners: I use dates primarily for sweetness. On occasion I'll use raw date sugar, coconut sugar or maple syrup (maple syrup is not raw).  Carob powder is a wonderful substitute for a chocolate flavor, cacao powder is used a lot too but I use it very sparingly.  Raw shredded coconut is great for desserts or as a garnish.  Vanilla bean is another excellent addition, it's not a sweetener but it can give a really nice taste to nut milks and desserts.
Oils: Oils make up a very rare appearance in my dishes.  However, if you want to use them it's good to have on hand  a high quality first cold-pressed olive oil, organic unrefined raw coconut oil or avocado oil.
There you have it my friend, my essentials to stock a raw food kitchen for success.  I hope that helps you. Stock away and enjoy your journey!
What are your staples in the kitchen? Leave a comment below and share!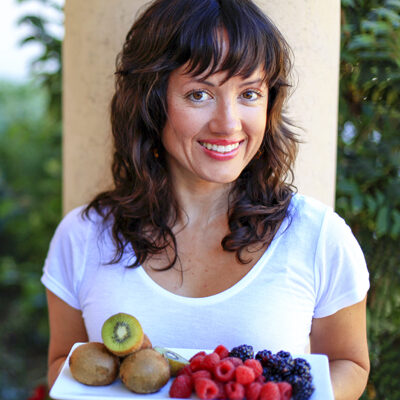 Hi, I'm Christine, thanks for stopping by! As a fibromyalgia thriver (symptom-free for over 10 years now thanks to diet and lifestyle changes), it is my passion to share the healing power of food.
As an RN and Holistic Nutrition Practitioner, it is my desire to empower you to take charge of your life.
Let's journey together to glowing health. Learn More
Your Health Transformation
Starts Here!
Sign up to get FREE healthy lifestyle tips and recipes!