HP's 10 Year Health Update + Raw Food Challenge
I'm so excited to be back at it with Christine here with the Just Glowing with Health community if you've been following along @justglowingwithhealth and @bewellflourish for the last few days then you've probably been seeing us posting. Last time we did a raw food challenge was way back in 2017. Can you believe it?! We've all come a long way since then and we still "keep on, keepin' on".
This year I was delighted to have Christine and most of her Purium team welcome me into the their fold to raise awareness about raw foods. Currently they are doing Ultimate Lifestyle Transformation program, which provides two raw superfood meals a day, making it super simple to stay fully raw. I've decided to create as much raw vegan meals as I can.
Photo below my skin condition before and after going raw in 2012
I realised at the end of day 3 that my life is much busier than when I first went raw in 2012, to see my condition back then click HERE. So I'm doing the Daily Core 4, the maintenance kit to the ULT above. It provides me with one raw meal a day, in th most simple, convenient form reducing prep and clean up time in the kitchen. So, it fits my very busy schedule!
Going raw for a month or two at a time, over the years has helped me to reset my mindset and my physical health. I used to believe it was just about diet, but I came to realise I love the creative outlet and the challenge of increasing raw food into my diet.
Since I became a Holistic Nutrition Counsellor 12 years ago, my personal belief that seeded food is THE highest quality source of food. It doesn't harbor disease that animal products can carry in the fat and it breaks down for quick use in the body. These 30-day challenges have supported my immune system and increased my quality of life, for a variety of reasons not solely from the food. That's why after 6 years I yearned to return to a raw vegan challenge to – Be Well (Flourish).
Every year www.justglowingwithhealth.com makes it possible for me to take a moment to raise awareness for Topical Steroid Addiction/Withdrawal (formerly known as Red Skin Syndrome) and the non-profit organisation www.itsan.org. ITSAN (International Topical Steroid Addiction Network) also helped me become aware of what I had. They've been education and helping validate the diagnosis of Topical Corticosteroid Addiction in the medical community for over a decade. They also support the patients and their caregivers who are suffering through withdrawal from Topical Corticosteroids via a private forum.
Maybe you or someone you know is suffering with worsening "rashes" and uses Cortisone or other topical steroid preparations to treat them. Check out www.itsan.org to read the symptoms of Red Skin Syndrome. May 2023 marked my 11th year anniversary off of topical corticosteroids! It was a slow but steady climb to recovery. I've been off federal disability since 2020 and living a "normal" life (lol).
I've launched my own business www.bewellflourish.com. I've switched vocations went to school for coaching individuals with chronic illness. After completing two certifications and a year internship I'm now a "Quality Life" Coach for people who have had long term illness but need to keep moving forward. We work together one conversation at at time. It's been a very rewarding process of self-improvement and meeting inspiring people. I'm excited to be on this new journey and hope you'll sign up for my newsletter and follow me on IG and FB @bewellflourish.
Since I'm not a Nutrition Coach, I've teamed up with Christine to provide her resources to my client base because she has helped me so much. If you remember me from the early days then you can attest that becoming more mindful of what I was eating, increasing nutrient dense foods helped me during the times would healing was very slow.
Over the years my husband and I faced many incredibly difficult circumstances and suffered a lot of loss. Especially during COVID we did NOT make good nutritional choices and wound up in a "starvation for comfort" cycle which led to us eating almost solely to feel a temporary euphoric comfort versus supporting our quality of life.
Photo below: HP 2023/HP 2017
Over the last year we've prioritised our peace, joy and wellbeing. Slowly our emotional endurance increased and comfort cravings decreased and we're now in a routine we find satisfying and sustainable with minimal to no negative impact. Now, here I am full circle back with Christine and our Raw Vegan Challenge.
The food we choose to fill our face with can really be a result of unconscious decisions or belief systems, especially if we are in survival mode. And I think we've all been there at one point or another. If you're experiencing this now Christine and I are here, we can work together to support you through it.
What I love about Purim's raw, organic superfoods, is that they fit into ANY type of diet and provide nutritionally dense food of the highest quality. A raw vegan diet may not be for everyone, and if you have questions on whether or not it's for you or how to get started, make sure to work with your health practitioner to determine the best path for you. I always encourage to try to listen to your body's needs versus it's wants.
Presently I'm trying to focus on creating healthy habits, keeping physically active, making sure to rest, balancing my activity to energy ration, eating high quality foods and finding supportive people. Those are important factors to emotional and physical health for me. I also always try to maintain a positive attitude and every day my husband and I "state the facts of the day" to each other instead of complaining. We take it one day at a time being grateful and focusing on peace.
May your day be full of things you're grateful for despite "the facts of life". We hope you enjoy coming along with us on our 30 day raw vegan journey. We look forward to hearing from you and how you're participating this year. Don't for get to DM and follow us on Instagram us @justglowingwithhealth and @bewellflourish.
Hugs and high-fives!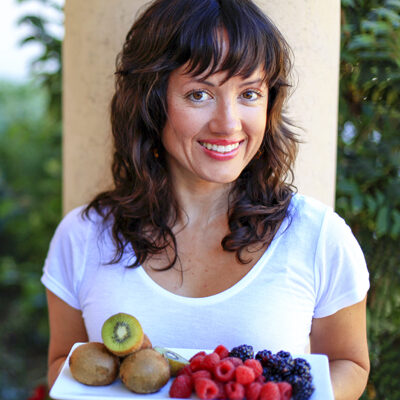 Hi, I'm Christine, thanks for stopping by! As a fibromyalgia thriver (symptom-free for over 10 years now thanks to diet and lifestyle changes), it is my passion to share the healing power of food.
As an RN and Holistic Nutrition Practitioner, it is my desire to empower you to take charge of your life.
Let's journey together to glowing health. Learn More
Your Health Transformation
Starts Here!
Sign up to get FREE healthy lifestyle tips and recipes!