Restaurant Review: Mohawk Bend
This weekend  my friend Felicia from A Simply Raw Life and I were excited to check out the Mohawk Bend that we heard so much about. The pictures we had seen of the food looked so fabulous we couldn't wait to see and taste it for ourselves! As many of you know I am a mostly raw food vegan.  That basically means that the majority of my diet is made up of raw vegan foods.  However, there are times when I really enjoy a cooked meal as well.  But even when I eat a cooked meal I always make sure to include a large salad or some un-cooked vegetable or greens to balance it out for optimal digestion.
What I really like about the Mohawk Bend is that it is a mostly vegan restaurant but they do offer vegetarian,  and non-vegan dishes as well for those who wish.  The reason I like this so much is that the majority of my family or friends are not vegans nor raw foodies, so although many times they do concede to my choice of picking a raw food restaurant, I can't always expect that.  But here it is truly possible for all to be pleased! We brought both our husbands who are not vegans and they were so willing to take us knowing that they wouldn't be limited in their choices of food.  Another thing I really appreciated is that it uses local in season California grown food, so not only is it environmental conscious but the food is at it's freshest.
We started off ordering several appetizers, here are the highlights:
Endive Salad with Asian pears, kale,pomegranate and red quinoa
I started off with this salad, it was supposed to be just for me but my husband loved it so much he finished it off.  It was such a delicious blend of flavors.
Heart of Palm "Crabcakes" with Corn Relish
 These "crabcakes" really tasted like the real deal, so so yummy! I highly recommend these along with the Buffalo style Cauliflower…Must tries!
Buffalo style Cauliflower with "bleu Cheese" dressing
These buffalo cauliflower were incredible! They tasted just like buffalo wings, we even ordered a second round of them because we couldn't get enough!
         Asparagus Potato Pizza
I didn't try the pizza since it was not gluten-free but everyone said it was really good, it sure looked good!
Mediterranean Platter
This Mediterranean Platter was my main dish.  I love falafel and it came with an arugula salad and hummus all of which I am a big fan of.  So I was content.
Other than great food the one thing that was memorable about the Mohawk Bend is the really cool retro atmosphere.  It feels really cozy with the big fireplace inside and out and the brick walls with the high ceilings.It was a warm quaint environment.  There is also a pub with bar stool seating and a giant television screen right in the middle of the room with an open kitchen.
If you are ever in Los Angeles, Silver Lake to be exact, stop by and check out Mohawk Bend!
Posted in Lifestyle and tagged with "crab cakes", appetizers, Asian pears, Asparagus potato pizza, atmosphere, Buffalo style Cauliflower, California, cooked meal, Corn relish, digestion, Endive Salad, environmental conscious, fabulous, falafel, food, gluten free, heart of palms, kale, local food, Los ANgeles, Mediterranean platter, Mohawk Bend, non-vegan, open kitchen, pomegranate, pub, raw food diet, red quinoa, restaurant, retro, salad, Seasonal food, Silver Lake, vegan, vegetarian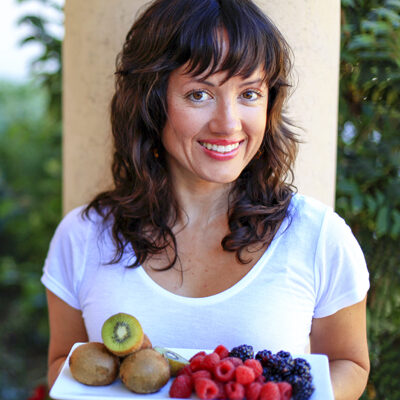 Hi, I'm Christine, thanks for stopping by! As a fibromyalgia thriver (symptom-free for over 10 years now thanks to diet and lifestyle changes), it is my passion to share the healing power of food.
As an RN and Holistic Nutrition Practitioner, it is my desire to empower you to take charge of your life.
Let's journey together to glowing health. Learn More
Your Health Transformation Starts Here!
Sign up to get FREE healthy lifestyle tips and recipes!