This recipe is taken from HP's
food journal
this week. She continues using the Williams Sonoma "Vegetables" Recipe book as her inspiration in her raw vegan recipes. In this RAWmoulade sauce she takes the Fried Green Tomatoes with Remoulade and puts her raw vegan spin on it. It looks amazing! Check out her commentary:
"As I was leafing through some recipe books looking for inspiration. I found this fried green tomatoes with Remoulade recipe that sounded fantastic. Since Heirloom Tomatoes are coming into season locally, I thought 'how beautiful some heirlooms freshly sliced with a 'Rawmoulade' sauce to slather on top of them'. So this is what I whipped together:"
Recipe:
2 Tablespoon dill pickle diced (vinegar free)
1 Tablespoon chopped sun-dried black olives
1 Tablespoon chopped fresh parsley
1 Garlic clove minced
2 Teaspoon minced fresh Tarragon ( I may have used a bit more)
Place all the above ingredients into a mixing bowl and whisk together.
Serve on the side of a beautiful dish of ripe red, yellow and green heirloom tomato slices with some raw vegan crackers.
Tip 1: Use less if you don't like spicy things.
Tip 2: You can also use 1 teaspoon of left over sauce from the "
No-tato Salad
" as I did in this recipe. But it isn't necessary. It just adds an extra zip.
Tip 3: You can add 1/2 tsp pink salt if you find Mayo too sweet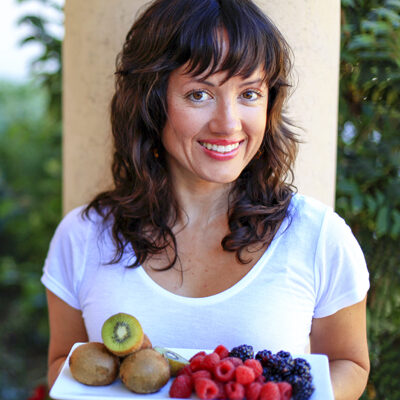 Hi, I'm Christine, thanks for stopping by! As a fibromyalgia thriver (symptom-free for over 10 years now thanks to diet and lifestyle changes), it is my passion to share the healing power of food.
As an RN and Holistic Nutrition Practitioner, it is my desire to empower you to take charge of your life.
Let's journey together to glowing health. Learn More
Your Health Transformation
Starts Here!
Sign up to get FREE healthy lifestyle tips and recipes!