Hp's Healing & Food Journal Days 8-12
Day 8 – 12 Raw Vegan Challenge
By now week 2 is well under way. I just want to take a moment to express my appreciation for everyone. You've all done a lot of Tagging and Sharing information about Red Skin Syndrome. We've received some interesting feedback and questions about RSS. We've also seen a rise in donations on www.itsan.org. Thank you all so much for helping to make this 30 Day Raw Vegan Challenge successful! We can't do it without you!
Why is it important we raise awareness for Red Skin Syndrome and ITSAN.org? There is a lack of patient and physician education available. The medical community is just learning about the long-term dangerous effects of Topical Corticosteroids. It's also difficult to diagnose Red Skin Syndrome because the symptoms mirror Atopic Dermatitis (like Eczema and other rashes). When a person using Topical Corticosteroids for Atopic Dermatitis (or other rashes) get worse, instead of better, the standard medical procedure is to increase the strength of the Corticosteroids.
At times a smorgasbord of oral and intramuscular Corticosteroids will be given as part of the of treatments. This leads to terrible tragedy in the long-term. The solution is to STOP using Corticosteroids so the body can reboot the endocrine system and start recuperating the skin. Spreading the word prevents people from long-term use of Topical Corticosteroids and allows them to find better options. We want to stop the suffering and give people more knowledge to make the right choices.
Thank you and we look forward to your continued effort in sharing this information!
How are things going with your Raw Vegan efforts? I would love to hear from you. Just Tag #justglowingwithhealth so we can check out your creations and some of our favorites will be reposted on our social media network.
Here is the low down on the last few days for me.
Day 8 Week 2 of Raw Vegan Challenge and my gym routine kicks off well. The weather was so hot. I didn't feel like eating at all so I drank tons of fluids. I've been battling dehydration. I realize it's because I started going to the gym for an 30-60 minutes a day and I'm sweating a lot. I'm trying to be conscious of this and hydrate. Still waking up in the middle of the night with itching episodes, which makes my mornings hard.
Day 9 My infection from last week officially went away. That was really exciting to wake up to. The weather has been all over the place. Yesterday it was blazing hot. Today was overcast and I think it even rained a bit in the morning and it was humid. It is difficult for my body to make such rapid adjustments to weather. In addition, I incorporated some strength training into my gym routine, not sure if I can handle it yet. We'll see.
Day 10 I woke up to a painful inner left arm. It was swollen and the skin was separating. There was also a spot that looked like it was starting to develop an infection. "NOT ANOTHER ONE!" I thought because I just recovered yesterday from the viral infection. I got depressed and felt despondent. I just tried to get through the day and didn't do a lot.
Day 11 Fortunately I woke up to realize my inner left arm did not blow up into an infection. YAY! Apparently the skin tissue was just separating and swollen. Overnight it made a minor bit of progress. I laid out in the sun and exposed it for 15 minutes. Then I made sure to treat it very gently and keep it covered. A friend of mine came to visit and we took a long walk along the ocean. She indulged me by agreeing to go to a Raw Vegan Restaurant in Santa Cruz called Café Gratitude. We tried a few entrees and desserts.
After she went home, I rested for a bit. My husband and I attended our regular weekly evening meeting for our volunteer work. It turned into a long night when a friend of ours went into the hospital. We accompanied her and stayed until she was discharged. (She is home recuperating now.) By the time we got home I was really itchy which required I take a bath at 1:30am to wash my skin and address my left arm issues. I hit the hay at 3am only to wake up to an itching meltdown around 5:40am.
Day 12 I woke up around 10:30am a little confused and overwhelmed. After managing to eat cereal and apples, I went to the gym and laid in the sun. I watched some tv and nibbled at lots of left overs.  I'm tired and look forward to a long night sleep.
Food summary of the last few days:
Breakfast Mainly green smoothies, fresh whole fruit and cereal. I think I'm going to be a bit more inventive next week for breakfast.
Lunch I did a lot of snacking on carrots, flax crackers, basil cheese and sun-dried black olives. I made an amazing "Rawmesco" sauce and have been dipping Fennel and Zucchini into it.
I had a salad one day and a beautiful green bean & snow pea lunch. Of course my Café Gratitude lunch was immensely satisfying. I had Walnut Tacos with a green salad and a vegan sushi roll.
This week I made a lot of sauces. First I started with a Raw Vegan (vinegar free) spicy mustard from the recipe I posted last year. It was spicy and tangy and perfect.
Next I made Christine's Raw Vegan Mayo  on the site. I found it to be perfectly tangy and sweet. I did use a bit more lemon juice because mine didn't come out as smooth as hers did. The third sauce I made was a Raw Vegan spin on Romesco sauce, a Spanish inspired dish that I call "Rawmesco". The 4th sauce I made was for the Mediterranean "No-tato salad".
It was a combination of fresh herbs with lemon juice, olives, pickles and the spicy mustard. I think it was one of the best raw vegan sauces I've made ever.
The final sauce was the "Rawmoulade", inspired by a southern sauce called Remoulade often served with Fried Green Tomatoes. I of course slathered the sauce all over the tri-color heirloom tomatoes. My "Rawmoulade" was made from both the Mayo and Mustard that I whipped up and a few other fun ingredients.
Sauces are a great companion to single food meals and fun dips for veggies. Try making a sauce to make your raw vegan experience more interesting.
Dinner Monday I had a great salad. Tuesday I had an amazing Mediterranean "No-tatoe salad" of cauliflower, pine nuts and green beans.
Wednesday was those immaculate Heirloom Tomatoes and "Rawmoulade" with flax crackers. Thursday I just had some carrots and apples because lunch was so huge. Friday I spent the day finishing up the leftovers, including the Nectarine Strawberry Cheesecake from Café Gratitude.
Tomorrow I have a graduation party to go to in the evening. So we'll see what kind of food and snacks I will supply myself and share at the party… Stay tuned!
Keep checking in!
— HP
www.eczemancipated.com
Facebook: Heather Petersen HP Esthetics
Instagram: HP Esthetics
Pinterest: HP Esthetics
You can read about my past 36 months at www.eczemancipated.com For more information on TSA/RSS, check out www.itsan.org, the International Topical Steroid Addiction Network.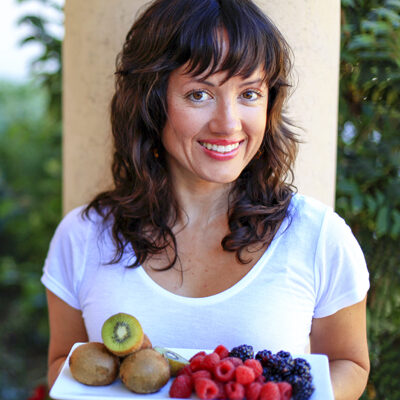 Hi, I'm Christine, thanks for stopping by! As a fibromyalgia thriver (symptom-free for over 10 years now thanks to diet and lifestyle changes), it is my passion to share the healing power of food.
As an RN and Holistic Nutrition Practitioner, it is my desire to empower you to take charge of your life.
Let's journey together to glowing health. Learn More
Your Health Transformation
Starts Here!
Sign up to get FREE healthy lifestyle tips and recipes!