HP's RAWmesco sauce recipe and commentary:
I just wanted to start out by saying that I was kind of walking into familiar territory making this sauce. I made and posted it last year. But the recipe I used to convert this one was a little different from last years. I liked this recipe much better. It's a thinner sauce that you can pour. Last year it was a thick sauce that had to be spooned out of the vitamix.
It's a flavorful sauce that has just enough spice that it's warm on the tongue. It also has smokey undertones from the Smoked Paprika. This recipe made so much that I gave away a 16oz mason jar of it to a friend who planned on pouring it over some roasted asparagus she was going to make. So there's a variety of ways you can use this. I dipped Fennel, Zucchini and Flax Crackers into it.
Recipe:
Makes 32 ounces
2 dried Chipotle Peppers (you can use dried Ancho chilis)
6 sun dried tomatoes
1/4 cup almonds
1 cup purified water
In a small bowl soak the dried chilis, sun dried tomatoes and almonds until the CHILIS are pliable. This may be anywhere from 30 minutes to 2 hours. Be patient.
When the Chilis are ready drain the water another container and save it for later.
Throw all the following ingredients into a Vitamix:
1/2 ripe avocado
4 mini sweet red peppers
1/2 cup heirloom cherry tomatoes
6 green onions trimmed
1 clove garlic peeled
6 black grapes
1/3 cup lemon juice
2 tsp smoked paprika
You'll need to use the tamper (or spatula) to keep it all moving. Don't be afraid to turn the Vitamix  off and wipe the sides down. Slowly add the water that was set aside until the sauce is thin and pourable.
Pour it into a serving bowl or glass. Dip your favorite veggies and raw vegan crackers.
Tip 1: It'll keep in the fridge for a week as long as you secure the lid tightly.
Tip 2: Since this recipe made 32oz, you could cut the recipe in half to make less. In the future that's what I'll be doing or you could use it as a salad dressing as well to keep on hand during the week.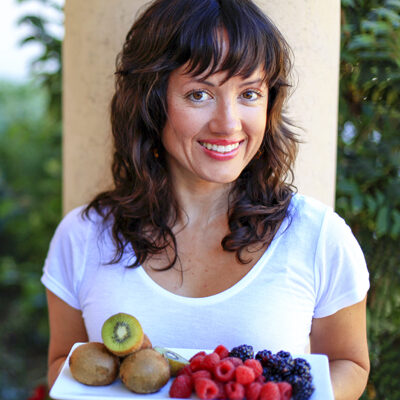 Hi, I'm Christine, thanks for stopping by! As a fibromyalgia thriver (symptom-free for over 10 years now thanks to diet and lifestyle changes), it is my passion to share the healing power of food.
As an RN and Holistic Nutrition Practitioner, it is my desire to empower you to take charge of your life.
Let's journey together to glowing health. Learn More
Your Health Transformation
Starts Here!
Sign up to get FREE healthy lifestyle tips and recipes!