Herbed No-Tato Salad With Sweet Mustard Dressing (Raw Vegan)
HP's
raw vegan potato-less salad she likes to call No-Tato Salad! Here's her commentary followed by the recipe:
"I love Potatoes. We were raised eating potatoes almost every day when I was growing up. So going a whole month without eating at least 1 potato is tough. Potatoes of course are vegan, but you can't eat a white potato raw.
I found a great Mediterranean Chickpea and Potato Salad recipe in a Williams-Sonoma cookbook and thought I would convert it into a Raw Vegan meal. It turned out to be creamy and amazing. It really hit the spot. My husband even took the left overs the next day for his lunch."
 Recipe:
 12 long slender green beans, trimmed and cut in half
1 lb. Cauliflower, chopped into 1/2 inch pieces
"I wanted my salad to be a little warm. So I brought a small sauce pan to a point where little tiny bubbles were appearing in the bottom of the pot. I turned the pot off and let it cool. With a cooking thermometer I placed the Cauliflower and Green Beans in the water when it dropped to 118 degrees. Then I put the timer on for 2 minutes and took them out and rinsed them in cool water to stop the heat. My veggies were super crispy but just a little warm."
"You do not need to do the above for the recipe. You can skip that step and just put them in a large bowl. "
Next take the following ingredients and pulse them in a Food Processor until they're all combined and the green onion is small little pieces. Don't over process them. Once they're combined place them in the large bowl with the Cauliflower and Green beans."
6 green onions, cut most of the green part off. Keep the white part and about an inch of the green.
1/2 cup fresh chopped parsley
1/2 cup roughly chopped mint leaves
6 sun-dried black olives with sea salt
2 tablespoons dill pickle (vinegar free) dice it up.
Finally place the following ingredients in the Vitamix and blend until smooth:
1/4 cup Lemon Juice
6 Red grapes
1/4 cup ripe avocado
1 tsp pink salt (optional)
"Tip: The above sauce is fantastic. You can use it as a salad dressing. It was great on some heirloom tomatoes.
Pour the sauce on the Cauliflower, Green Beans and Herb Mixture. Stir together until it's all incorporated. Enjoy!"
-HP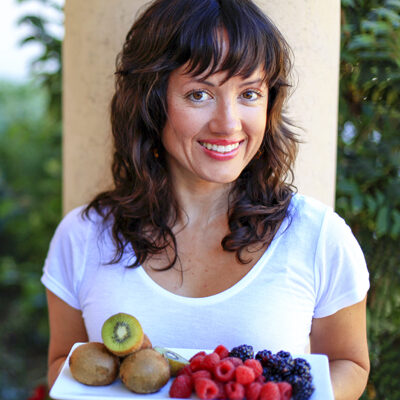 Hi, I'm Christine, thanks for stopping by! As a fibromyalgia thriver (symptom-free for over 10 years now thanks to diet and lifestyle changes), it is my passion to share the healing power of food.
As an RN and Holistic Nutrition Practitioner, it is my desire to empower you to take charge of your life.
Let's journey together to glowing health. Learn More
Your Health Transformation
Starts Here!
Sign up to get FREE healthy lifestyle tips and recipes!